Person Sheet
| | |
| --- | --- |
| Name | Celia Evelyn NEWTON |
| Birth | 8 Oct 1917, Blakely, Ga |
| Death | 25 Jun 2009, West Columbia, SC |
| Education | Flora MacDonald College, Red Springs, NC |
| Religion | Methodist, Baptist, Episcopalian |
| Father | Luther Samuel NEWTON (1874-1935) |
| Mother | Elizabeth Ellis 'Lizzie' BLACKSHEAR (1880-1978) |

Spouses:

| | |
| --- | --- |
| 1 | William Carson TOLAR Jr. |
| Birth | 8 Oct 1917, Blakely, Ga |
| Death | Black Mountain, NC |
| Occupation | Forestry, sawmill operator |
| Religion | Baptist |
| Father | William Carson TOLAR Sr. (1876-1960) |
| Mother | Susie DeMaris McINTYRE (1884-1964) (1880-1978) |
| | |
| --- | --- |
| Last Modified 13 Nov 1999 | Created 15 Mar 2003 by EasyTree for Windows |
---
Obituary published in TheState.com, (http://www.legacy.com/obituaries/thestate/obituary.aspx?n=celia-evelyn-newton-tolar&pid=128991034) written by her daughter Elizabeth:
COLUMBIA - A pilgrim no longer, Celia Evelyn Newton Tolar is finally home. In answer to her family's prayer that she end her life without suffering and without reproach, she went to sleep on earth and woke up in glory early on June 25, 2009. Born in Blakeley, Georgia, she was the daughter of Luther Samuel Newton and Elizabeth Ellis Blackshear Newton. Her early years were spent in Red Springs, North Carolina, where she matriculated through the public schools and graduated from Flora Macdonald College. She was later awarded a Masters degree from the University of South Carolina.
A Dillon County farmer and lumberman, William Carson Tolar Jr. sat behind her in church one Sunday and fell in love with the back of her neck. Upon peeping under the brim of her big hat, he promptly fell in love with the rest of her. He was still falling in love forty years later when he preceded her in death. On their Dillon County farm, together they raised cotton, tobacco, food and meat for the table, and four rather wild children. Along the way they managed to instill in these four a passion for classical music, good literature, knowledge of the Word of God, a deep love and respect for all of God's natural creation, and a desire to further the gospel of Christ in foreign lands.
In Dillon County, Celia was active in First Baptist Church and St. Cecilia Music Club, taught school, made costumes, cooked, canned, played piano and organ and shot a mean .22 rifle.
Her servant's heart was tested and found faithful when she and Carson moved from the farm and into "the big house" in town to care for her mother-in-law. Further testing came during her widowhood when she returned to Red Springs, North Carolina to be a companion to her elder sister, Frances Newton Zedaker.
In 2000, Celia moved to Columbia, South Carolina, to be near her family. She was an eager and pleasant addition to all the weddings, parties, family dinners and celebrations enjoyed by her ever-growing brood. She joined St John's Episcopal Church and the Morning Music Club, supporting both in every way possible to her. At Still Hopes Episcopal Retirement Community, she felt so safe and loved by all, especially the staff of the Lowry unit. Melissa O'Neal was her personal caregiver and the two of them had a close bond, spending many congenial hours together.
As eyes dimmed, knees weakened, and body failed, she grew increasing homesick for heaven, never complaining, always encouraging to others, possessing a sharp wit and remarkable memory to the very end. She grew lovely growing old. She crossed over the finish line of earthly life to be taken into glory by the Savior she loved and by whom she was made righteous.
In addition to her husband, her eldest child, William Carson Tolar III (Bill), preceded Celia in death. Surviving children, still a bit unruly, are John Calvin Tolar, Elizabeth McIntyre Tolar Briggs (wife of Duane Briggs), and Celia Newton Tolar Bane (wife of John Bane). Her much-loved daughter-in-law, Jane Hursey Tolar, also survives, as well as eight grandchildren and two adoptive grandchildren. They are Mac Tolar (husband of Helen), Angela Hadjin (wife of Tom), William Tolar (husband of Beth), Bryan Tolar (husband of Amy), Lynfield Tolar (husband of Kim), Lawton Buckner (husband of Michelle), Kathy Pittman (wife of David), Jeffrey Tolar (husband of Merri Christy); also Miles Stuart Briggs and Melvin Alan Charles Jr. (husband of Terri). Great-grandchildren are Celia Anne and Lexie Hadjin, Carson, Jackson and Anderson Tolar, Abbie and Ford Tolar, Maggie and Frank Tolar, Trey, Brooke and Jacqueline Buckner, Katie and Ellie Pittman, and Laurel Grace Tolar. Her sixteenth great-grandchild, child of Mac and Helen Tolar, is due to be born on June 30. The Lord giveth and the Lord taketh away. Blessed be the name of the Lord.
Memorial services will be held at St. John's Episcopal Church, 2827 Wheat Street, Columbia, SC 29205 on Thursday, July 2, 2009 at 11:00æa.m. The family will receive friends at a reception at the church immediately following the service. If desired, memorial contributions may be made to Residents Fund, Still Hopes Episcopal Retirement Community, 1 Still Hopes Drive, West Columbia, SC 29169 or to the William Carson Tolar III Nursing Scholarship Fund (make checks to Northeastern Technical College, PO Drawer 1007, Cheraw, SC 29520).
www.ShivesFuneralHome.com
(803)754-6290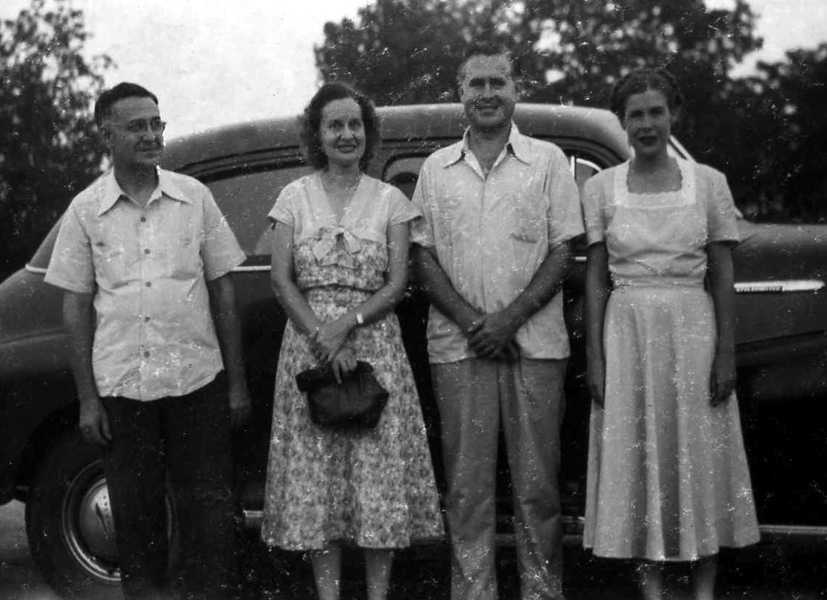 Celia and her three siblings. From left to right they are Perry, Frances, Roy, and Celia; Photo thought to have been taken between 1935 and 1937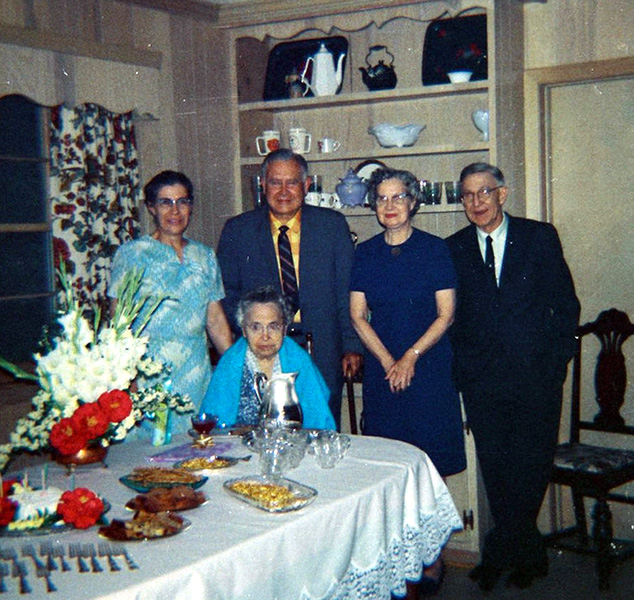 Pictures from the 1969 photo album of Dorthy Newton. The negative was in a sleeve marked "April-May 1969 S. Carolina," The seated person is Elizabeth Ellis Blackshear, Judging from the presence of all four of her children and the fancy table setting, we guess that this picture commemorates her 89th birthday. The standing adults are (left-to-right) Celia, Roy, Frances, and Perry.
See William Carson TOLAR Jr. - Celia Evelyn NEWTON family page for additional pictures.
---
Contents * Index * Surnames * Contact
---
---
©2019 These pages are served without commercial sponsorship. (No popup ads, etc...).Bandwidth abuse increases hosting cost forcing sponsorship or shutdown. This server aggressively defends against automated copying for any reason including offline viewing, duplication, etc... Please respect this requirement and DO NOT RIP THIS SITE. Questions?
<A HREF="http://www.piclist.com/techref/other/newtons/ps01/ps01_063.htm"> Newton Internet Family Tree</A>
---
Did you find what you needed?
---
| | |
| --- | --- |
| | Welcome to www.piclist.com! |
.