Person Sheet
See: Family

| | |
| --- | --- |
| Name | Roy NEWTON Ph.D. |
| Birth | 12 Feb 1904, 15 Th Ave. , Cordele, GA |
| Death | 27 Jul 1974, Big Rapids, MI |
| Burial | Highlandview Cemetery, Big Rapids, MI |
| Occupation | College Professor, Author |
| Education | BS, 1925, Asbury College; Honorary LLD, 1968, Ferris State |
| Religion | Methodist |
| Father | Luther Samuel NEWTON (1874-1935) |
| Mother | Elizabeth Ellis 'Lizzie' BLACKSHEAR (1880-1978) |

Spouses:

| | |
| --- | --- |
| 1 | Dorothy Vernon CRAMMOND |
| Birth | 22 Sep 1905, Newton, IA |
| Death | 10 Jul 1981, Big Rapids, MI |
| Burial | Highlandview Cemetery, Big Rapids, MI |
| Occupation | Choir Director, Housewife, Reporter, Piano Teacher, High Sch |
| Education | B.A. Music And English, Assoc. Arts, Arts And Crafts Asbury |
| Religion | Congregational |
| Father | Charles Chester CRAMMOND (1878-1939) |
| Mother | Margaretha Katherine Johanna HEIDECKER (1880-1969) |

| | |
| --- | --- |
| Marriage | 11 Aug 1927, Lansing, MI |
| | |
| --- | --- |
| Last Modified 13 Feb 2003 | Created 15 Mar 2003 by EasyTree for Windows |
---
Contents * Index * Surnames * Contact
Also:
Glenn Newton Says:
Dear Newton Relatives,

Roy Newton graduated from Duke University I think in Durham, N.C. There was an excellent teacher - someone who would make you look forward to attending his class! I took a couple of classes from him, business English, history of education, what else? This instructor lectured for an hour once on how "LUCK" plays a part in your accomplishments. I loaned my notes from that class to Bob Davis or Bay City or Flint and never seen them again. What a bummer?

There should be a dorm or a building of some kind named after Roy Newton. He probably taught at Ferris 30 or more years. I could tell you of a private conversation I had with Mr. Newton in the 1950's that made a powerful impact on my life. I shall always remember his interest and help, I shall write about it one day. Newton Hall, Roy Newton Building Number One. Hey, he was so good the board should name two buildings after him Roy Newton Building No. 1, and Building Number 2, I am not kidding he deserves it, I am serious.
+
See also:
http://www.ferris.edu/library/SpecCollections/fa/ua9150.htm The writings and historical documentation of Prof. Roy Newton's service at Ferris State are all archived there.+
James Newton refers to " http://www.ferris.edu/library/SpecCollections/fa/FerrisDissertationCollection.html A manuscript collection that includes interviews with Roy Newton for a dissertation on Woodbridge N. Ferris" +

James Newton refers to

http://www.ferris.edu/library/dedication/runway.htm An article in the September 20, 1927 Institute
News states that although a faculty member, Mr. Roy Newton, stayed in Mr. Ferriss office every day from
12:50 to 1:00 p.m. to check out books to students, few students took advantage of the service.


+

Author "How to Improve Your Personality" by Roy Newton; Gregg Pub. Division, McGraw-Hill; Explains just what personality is, its importance in daily life, and how, by practice and self-determination, anyone can overcome personality problems and develop good traits. From the preface: "The development of an effective personality cannot be left to chance"--actually, despite its outdated charm this book has many useful pointers on how to recognize and control how others see you.

This was actually a featured reading on the National Public Radio show "This American Life", on November 8, 1997; A reading from "How To Improve Your Personality" (1942) by Roy Newton, published by McGraw-Hill.

See also:

http://people.stu.ca/~nicholso.staff/borshuk.htm A few years after the introduction of Gordon Allport' s pioneering Personality: A Psychological Interpretation (1937), Roy Newton, dean at Ferris Institute in Big Rapids, Michigan published a college textbook entitled How to Improve Your Personality (1942). In the latter text, Newton urged college students and aspiring professionals to develop personal and aesthetic qualities attractive to prospective employers, potential mates, and social leaders: "Regardless of the job or profession you intend to enter, you cannot escape the tremendous importance of personality" (p. 7, emphasis added).

Editions

1st. edition 1942 1
2nd edition 1954 1956 1958 hardcover with F.G. Nichols, Illustrated by Ernie Barth1
3rd edition 1963 hardcover with Helen Hinkson Green 1

Directed a play at Wellesly High School 1945 HS "Seven Keys to Baldpate"

Published Georgia Educational Journal March, 1939 an article about his great uncle James Appleton BLACKSHEAR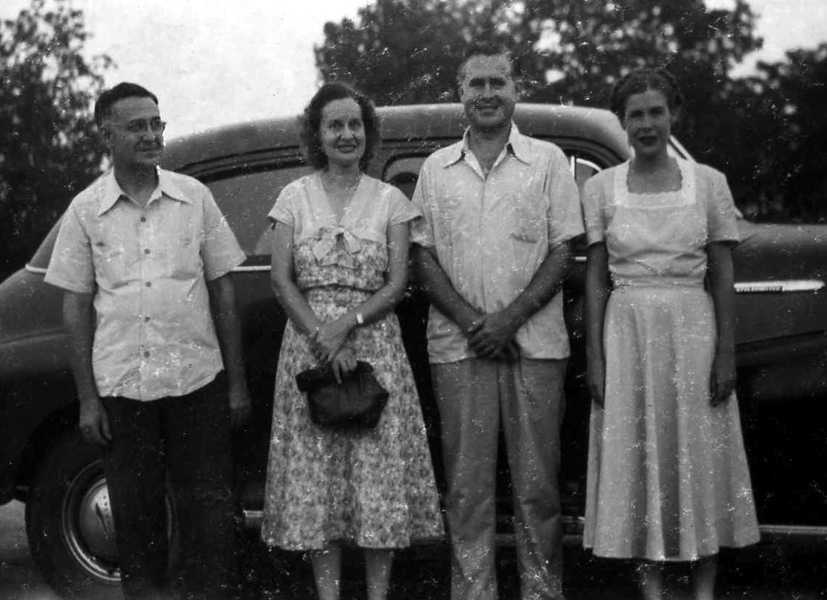 From left to right: Perry, Frances, Roy, and Celia; Photo thought to have been taken between 1935 and 1937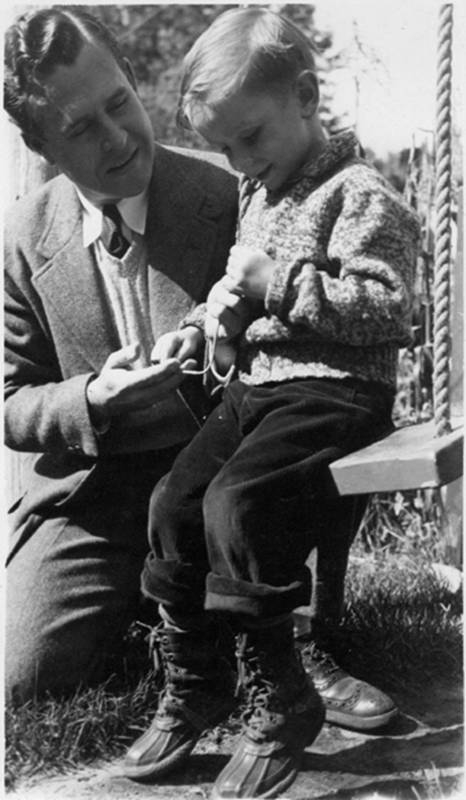 Roy and David Newton. Thought to have been taken Oct 1941

Roy fishing. The young man behind him is not identified.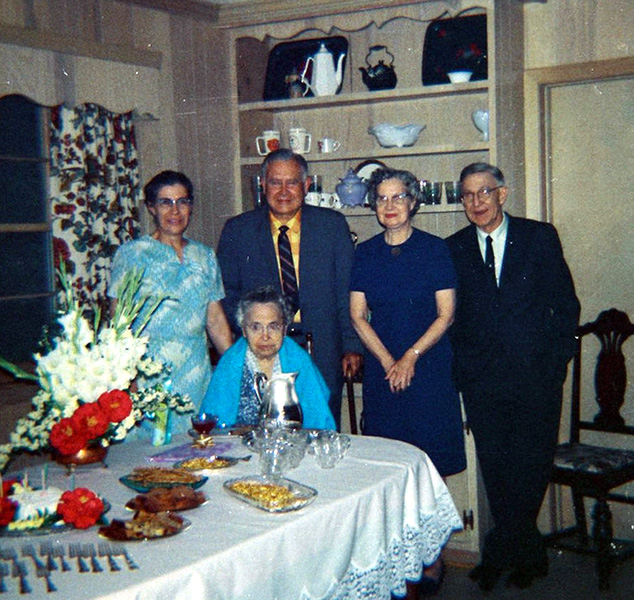 Pictures from the 1969 photo album of Dorthy Newton. The negative was in a sleeve marked "April-May 1969 S. Carolina," The seated person is Elizabeth Ellis Blackshear, Judging from the presence of all four of her children and the fancy table setting, we guess that this picture commemorates her 89th birthday. The standing adults are (left-to-right) Celia, Roy, Frances, and Perry.
See William Carson TOLAR Jr. - Celia Evelyn NEWTON family page for additional pictures.
---
---
©2015 These pages are served without commercial sponsorship. (No popup ads, etc...).Bandwidth abuse increases hosting cost forcing sponsorship or shutdown. This server aggressively defends against automated copying for any reason including offline viewing, duplication, etc... Please respect this requirement and DO NOT RIP THIS SITE. Questions?
<A HREF="http://www.piclist.com/techref/other/newtons/ps01/ps01_009.htm"> Newton Internet Family Tree</A>
---
Did you find what you needed?
---
PICList 2015 contributors:
o List host: MIT, Site host massmind.org, Top posters @20150426 IVP, RussellMc, Bob Blick, alan.b.pearce, James Cameron, Josh Koffman, Dwayne Reid, Isaac Marino Bavaresco, Robert Dvoracek, Jesse Lackey,
* Page Editors: James Newton, David Cary, and YOU!
* Roman Black of Black Robotics donates from sales of Linistep stepper controller kits.
* Ashley Roll of Digital Nemesis donates from sales of RCL-1 RS232 to TTL converters.
* Monthly Subscribers: Gregg Rew. on-going support is MOST appreciated!
* Contributors: Richard Seriani, Sr.
| | |
| --- | --- |
| | Welcome to www.piclist.com! |
.