XSP-101 Prototyping Board
Prototyping board with XILINX Spartan XCS10 FPGA (5V), 8031 microcontroller, 32 Kbyte RAM, LED display, 12 MHz oscillator and VGA monitor interface. Can be plugged into a standard 3M breadboard. Also includes downloading cable and utilities diskette. See the manual for more details.
The XSP-010 Board is supported only by Xilinx's newer M1-based Foundation and Alliance Series software. M1 has better routing and compiles designs much faster. If you run Win '95 or NT 4.0, then the M1-based tools are required. These tools are not free.
Price: $279.00 Educational Price: $229.00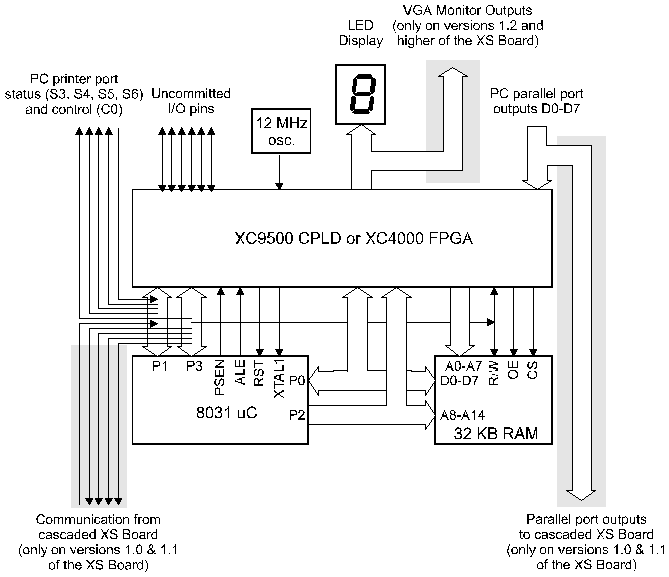 ---
---
©2021 These pages are served without commercial sponsorship. (No popup ads, etc...).Bandwidth abuse increases hosting cost forcing sponsorship or shutdown. This server aggressively defends against automated copying for any reason including offline viewing, duplication, etc... Please respect this requirement and DO NOT RIP THIS SITE. Questions?
<A HREF="http://www.piclist.com/techref/xess/xsp-010.htm"> xess xsp-010</A>
---
Did you find what you needed?
---
PICList 2021 contributors:
o List host: MIT, Site host massmind.org, Top posters @20211017 Neil, Harold Hallikainen, Alan Pearce, RussellMc, Bob Blick, Allen Mulvey, Sean Breheny, Dwayne Reid, Justin Richards, madscientistatlarge,
* Page Editors: James Newton, David Cary, and YOU!
* Roman Black of Black Robotics donates from sales of Linistep stepper controller kits.
* Ashley Roll of Digital Nemesis donates from sales of RCL-1 RS232 to TTL converters.
* Monthly Subscribers: Gregg Rew. on-going support is MOST appreciated!
* Contributors: Richard Seriani, Sr.
| | |
| --- | --- |
| | Welcome to www.piclist.com! |
.