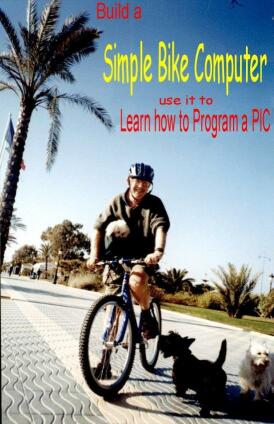 Picture of author and project on the road.

Table of Contents
SECTION 1 Hardware Tools...
Introduction.
Our Goal
The Master plan.
Getting the Act together
What is a microcontroller ? and Which microcontroller?.
Which PIC language?.
The Software Shopping List
The Tutor
Text Editor
MicroChip's MPLAB.
The program to get our program into the PIC..
Starter Kit
Defining the Computer
Sensors
The PIC's 18 pins
Where to find the Starter Kit
The PCB.
The PCB Shopping List
The Theoretical Circuit
Component List
The Electrical circuit Diagram..
The PCB track Layout process
I Boob… No, two boobs
The Print process.
Calibrating the Scale.
Other print problems
More Boobs… ExpressPCB was right !
Other print process problems?.
WARNING Chemicals WARNING..
Waste elimination.
Photographic Stuff
Photographic shopping list
The Photo frame.
The Chemicals
Mixing the Chemicals
The Test strip.
Exposing the PCB Tracks
Here we go this is real
Drilling the board.
Inserting and Soldering the Components
Colour code.
The PIC programmer
Final shopping List
Component List
SECTION 2 Writing Code for the PIC....
Introduction.
The First attempt to define the bike computer
Start of my original notes
End of my original notes
The First Steps after pseudo code.
Making Firstest Work.
What to do with the HEX file.
Setting up ICPROG..
Summing up.
A simple Hex to Decimal routine.
Debugging " myh2dec.asm" with MPASM..
The Watch Window.
The F5, F6, F7 and ( control + F9 ) keys
The StopWatch Window.
Debug Break settings
The Stack window.
Summing up using MPASM..
The Basic Windows
The Menus we have used till now..
MPLAB Number Formats
Letter Case conventions
More on generating code.
The hex2dec Time problem with Big numbers
The Bike Computer Flow diagram, simple version.
The Flow-Chart
Resolution Available.
Back to the Flow Chart
The Automatic menu.
The Complete Loop Execution Time.
Compromises
Nuts and Bolts
Math routines
LOGIC routines
Conversion routines
HEX to DECIMAL.
HEX FRACTIONS to DECIMAL FRACTIONS.
NUMBER SCALING..
LCD Setup, Signalling and data transfer routines
Automatic menu (2)
Bike3.asm..
The END Product the HEX file.
CONCLUSION..
SECTION 3 Putting it together....
Construction Notes.
The Wheel rotation Sensor
What is the Hall effect?.
There are two main types of Hall device.
The Bike mounted PCB.
Bike only Theoretical diagram..
The Box.
Appendix 1 Revised diagrams for *development System..
PCB of Bike computer and test accessories.
The Theoretical diag. +component layout
Comments:
zeedijkwhore at gmail.com

Hi, I think you have a small miscalculation in the circumference of the bike wheel. Wheel circumference= Radius*2pi (for a 26" wheel circ=26*2*PI*2.54/100 = 4.14m) I believe that the 26" is the diameter and not the radius of the wheel: circ=13*2*PI*2.54/100 = 2.07m Kind regards Mike/NL

Very nicely done. A well written and designed project :)

I've just bought the bits to create one of these for my motorbike (which outputs about 64 pulses/revolution), but I was planning to use the counter pins on the PIC. This removes the risk of lost pulses (particularly on a motorbike), but also means that more time intensive functions could be performed.
Microchip also have some nice examples of clock code, so that's possibly worth investigating too.

Cheers,
Jason+
May be I can help you on the PCB building. I us a double sided PCB.
Do a layout for all the parts. Us a small drill to drill for those
parts. I made a Pad cutter by taking a 1/8 inch steel drill and made the tip look like a wood bit that would cut the copper off the
PCB where the parts feed through. the top of the PCB is the ground
of the circuit. I use a paint pin by SK Mechandising Corp it called Super Met-Al Marker to make my traces on the bottom of the PCB . The paint dryies real fast. It can make a .05 inch trace.
and then I take and put wide tape on the top side of the PCB. but it into the acid and in a few minutes I have a PCB ready to use.

I hope this help you. Nice code for the 16f84
MY email is cbeener@columbus.rr.com+
mf_piclist at indirection.com

http://home.swipnet.se/~w-51358/pilot/default.htm Nice work (big documentation effort)!! I'm looking for a way to collect a detailed record of my ride. For example: "http://home.swipnet.se/~w-51358/pilot/default.htm" -- BUT I want a simple way to collect this detail data then download to my computer using a PIC or something else. Suggestions?
Questions:
priceless8301 at gmail.com.com asks: " Awesome job! How can this be converted to display miles for distance and mph for speed?" +
saimiri1 at hotmail.com asks: " Sorry, it's the C language" +
bb386 at scn.org asks:

Great tutorial! I would be interested in hearing from others who have home built a bike computer or have written a bike computer program for a Palm Pilot or similar.

Thanks!

Bruce
bb386@scn.org

David A Cary asks: " Nice tutorial. Who wrote this ?" James Newton replies: Fred Maher+
kmgkhai6 at tm.net.my asks:

What's the max speed the computer can sense (kmh) . I planned to build a bike computer for my motorcycle . My motorcycle top speed is 220kmh . Bike computer is very hard to get and very expensive where i came from .
See also:
---
---
©2021 These pages are served without commercial sponsorship. (No popup ads, etc...).Bandwidth abuse increases hosting cost forcing sponsorship or shutdown. This server aggressively defends against automated copying for any reason including offline viewing, duplication, etc... Please respect this requirement and DO NOT RIP THIS SITE. Questions?
<A HREF="http://www.piclist.com/techref/piclist/biketut/index.htm"> Simple Bike Computer</A>
---
Did you find what you needed?
---
PICList 2021 contributors:
o List host: MIT, Site host massmind.org, Top posters @20211018 Neil, Harold Hallikainen, Alan Pearce, RussellMc, Bob Blick, Allen Mulvey, Sean Breheny, Dwayne Reid, Justin Richards, madscientistatlarge,
* Page Editors: James Newton, David Cary, and YOU!
* Roman Black of Black Robotics donates from sales of Linistep stepper controller kits.
* Ashley Roll of Digital Nemesis donates from sales of RCL-1 RS232 to TTL converters.
* Monthly Subscribers: Gregg Rew. on-going support is MOST appreciated!
* Contributors: Richard Seriani, Sr.
| | |
| --- | --- |
| | Welcome to www.piclist.com! |
.