This page showes you the the main frame used in the station to hold the tanks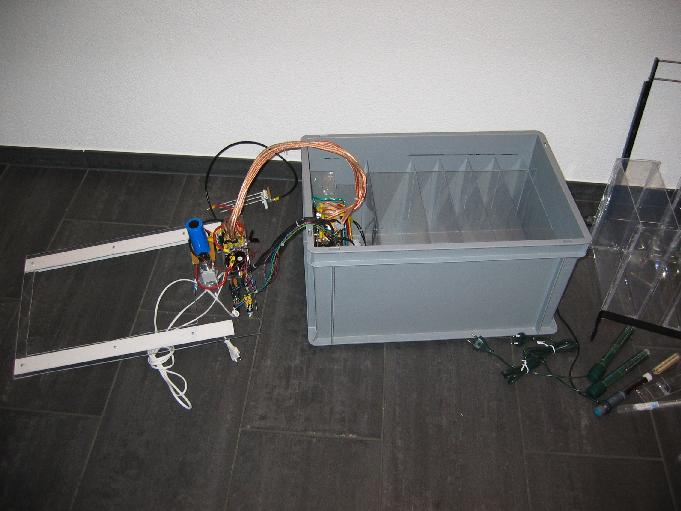 This picture showes you the frame I use to hold the tanks in place. Note, the frame is just put into the box without further mounting and as a result can be taken out easily. If I come to the impression that I should better seal up the frame cells, this could easily be done. It would further improofe the savety of the box, but for the moment I decided against this because - as mentioned - the box could hold the contents of all tanks and it takes more than three tanks to leake before the electronics is directly affected.
See also:
---
---
©2013 These pages are served without commercial sponsorship. (No popup ads, etc...).Bandwidth abuse increases hosting cost forcing sponsorship or shutdown. This server aggressively defends against automated copying for any reason including offline viewing, duplication, etc... Please respect this requirement and DO NOT RIP THIS SITE. Questions?
<A HREF="http://www.piclist.com/techref/pcb/plating/tps-frameinplace.htm"> Homebrew Through Hole PCB Plating Station - Main Frame</A>
---
Did you find what you needed?
---
PICList 2013 contributors:
o List host: MIT, Site host massmind.org, Top posters @20130522 RussellMc, IVP, Bob Blick, John Gardner, alan.b.pearce, veegee, Sean Breheny, Isaac Marino Bavaresco, Josh Koffman, Carl Denk,
* Page Editors: James Newton, David Cary, and YOU!
* Roman Black of Black Robotics donates from sales of Linistep stepper controller kits.
* Ashley Roll of Digital Nemesis donates from sales of RCL-1 RS232 to TTL converters.
* Monthly Subscribers: None at this time. on-going support is MOST appreciated!
* Contributors: Richard Seriani, Sr.
| | |
| --- | --- |
| | Welcome to www.piclist.com! |
.