Solar Chimney as a Power Source?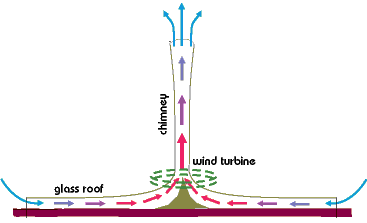 This is the power that drove the domestic Smoke Jack which turned, for over 300 years, the roasting spits of Western Europe. However the Solar Chimney utilises solar power unlike the Smoke Jack which turns in the rising hot gasses of the cooking range.
A tall chimney is built in the center of a large transparent solar collector. The suns rays will heat the air beneath the collector and the warmed, becoming less dense, ascends the chimney. The rising hot air will cool become denser and draw up more air in the same fashion as a tall chimney. As with normal chimneys or flues the taller the chimney the greater the draught obtained .
A turbine set at the base of the chimney drives an electrical generator. Greatest power will be obtained during the day however the stored heat in the ground below the solar collector will enable the turbine to operate at reduced power during the hours of darkness.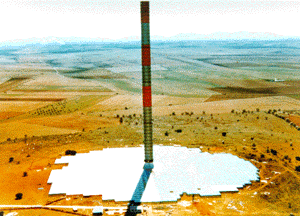 The first Solar Chimney Power Plant was built and commissioned in 1983, in Manzanares, Spain. The project was funded by a research grant awarded by the German Federal Ministry for Research and Technology .
This Solar Chimney was in operation for approximately seven years. The successful operation of this pilot plant led to the construction of two small scale demonstration plants in Sri Lanka.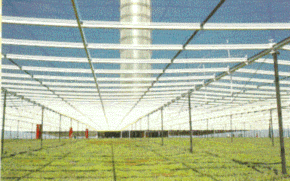 An interesting secondary use is one of Greenhouse Cultivation, since plants may be grown under 75% of of the solar collector area. The greenhouse effect provides stabile even temperature conditions. However since Solar chimneys are best sited in dry and infertile lands, in order to support intensive agriculture, additional water would be required.
Questions:
See also:
---
---
©2021 These pages are served without commercial sponsorship. (No popup ads, etc...).Bandwidth abuse increases hosting cost forcing sponsorship or shutdown. This server aggressively defends against automated copying for any reason including offline viewing, duplication, etc... Please respect this requirement and DO NOT RIP THIS SITE. Questions?
<A HREF="http://www.piclist.com/techref/other/solar/chimpower.htm"> Solar Chimney as a Power Source?</A>
---
Did you find what you needed?
---
PICList 2021 contributors:
o List host: MIT, Site host massmind.org, Top posters @20210418 Harold Hallikainen, RussellMc, Neil, Bob Blick, Alan Pearce, Spehro Pefhany, Clint Jay, Jason White, Richard Prosser, Alexandre Guimaraes,
* Page Editors: James Newton, David Cary, and YOU!
* Roman Black of Black Robotics donates from sales of Linistep stepper controller kits.
* Ashley Roll of Digital Nemesis donates from sales of RCL-1 RS232 to TTL converters.
* Monthly Subscribers: Gregg Rew. on-going support is MOST appreciated!
* Contributors: Richard Seriani, Sr.
| | |
| --- | --- |
| | Welcome to www.piclist.com! |
.