Person Sheet
| | |
| --- | --- |
| Last Modified 31 Mar 1996 | Created 15 Mar 2003 by EasyTree for Windows |
---
Contents * Index * Surnames * Contact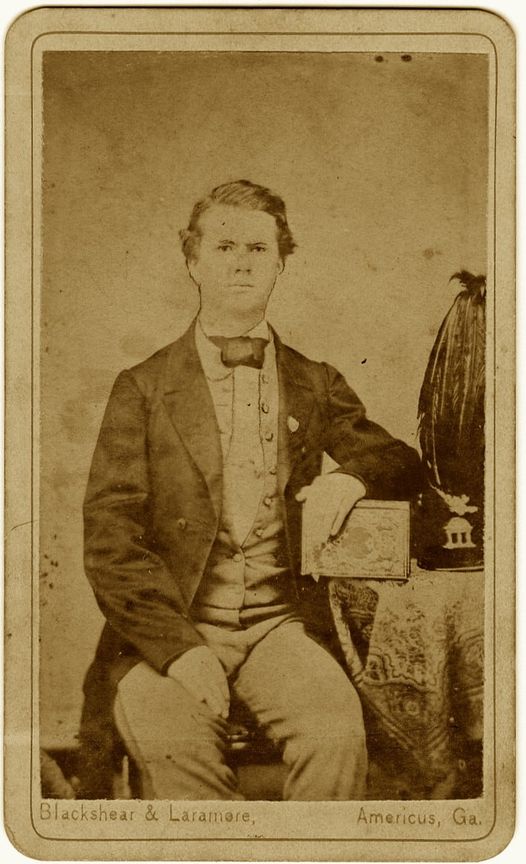 James Addison, b. Houston Co., Ga., 29 Oct., 1819, (1:30 A.M.) son of Margaret (Peggy) Wall and Enoch Blackshear, Sumter Co., Ga. D. Sumter County, Ga., 25 July, 1917. Bur. Blackshear Cemetery, Sumter Co., Ga. Will filed in Sumter Co., Ga. Wife, Roxana Caroline Ward (Miss Caline), b. Dooly or Randolph Co., Ga., 22 June, 1818. D. Sumter Co., Ga., 22 Dec., 1903. Bur. Blackshear Cemetery near Maddox Crossing. M. Sumter Co., Ga., 29 Sept., 1840. Issue No. 1 Capt. Appleton, b. 5 July, 1841, Houston Co. D. Louisiana, 26 Feb., 1867 (!). No. 2 Roxie Ann Hasseltine, m. Beacham of Laurens Co. No. 3 Thos. Enoch, b. 29 Feb., 1844. P. 20 Feb., 1854, Sumter Co. No. 4 Martha Josephine, b. 8 Nov., 1845, d. 21 Mar., 1854, Sumter Co., No. 5 Clarissa Emeline, m. Barwick, No. 6 Margaret Elizabeth, (Aunt Pink), m. Henry Alonzo Countryman, No. 7 Perry Link field, m. Blackshear, No. 8 Juda Virginia, m. Seals.
Occupation, farmer, 1850 Census Sumter Co., Ga., lists property $1,000.00.
1860 Census Sumter Co. Ga. lists property $4,500.00, 1870 Census Sumter Co. Ga. lists property $2,200.00. 1864-65, On advice of his son, James Appleton, he bought lumber with his Confederate money and bonds. This lum ber was used in the residence I knew near Maddox Crossing in Sumter Co., Ga. (Mrs. L. S. Newton, Dillon, S. C.) 1880 Census Sumter Co., Ga. GMD 1007—New 16 District. Jas. A. Age 58, farmer. Caroline Wife, Pink 21, daughter at home, Lucy Beacham 11, Granddaughter attending school. Hamp Blackshear 18 Negro, Robt. Bryant 19, Negro.
MOTTO—DON'T PUT ALL OF YOUR EGGS IN ONE BASKET.
A tale that he loved to tell about his youth; On reaching age 14, my father gave me the use of "a patch of land". What ever it and my planning and my labor yielded was to be my very own, to do with as I pleased. My father owned slaves, livestock and gear but I was not allowed to use the slaves. But the plows, hoes, mules, etc., I was allowed to use when they were not otherwise in use. It seemed to me that money was something greatly to be desired, (partly, because I had never had any), therefore no crop for my patch would do except a "Money Crop". That meant COTTON! So, from asking questions and watching others preparing the land for cotton planting, I saw how it was done and so "pitched in", with mule and sweat, with plow and sweat, with seed and sweat, with hoe and sweat, with picking sack and sweat—finally to the Cotton Gin "in Town" and the cotton buyer. My money crop got me 40 big, shiny pre-war Dollars, I was rich! and wished to so impress others. That brought up the question of ways and means, the question was suddenly, unexpectedly and pleasantly answered by a friendly (!) gent, who must have spied me as I was lost in the vision of how I would look if I had some of the articles which were displayed in the "Show Window" of his General Store. What should it be? Boots and Spurs? Bridle and Saddle? Gun and Powder Horn? Or that "Sto' Bought" Suit of Clothes? (Ma had made all of my clothes out of Homespun cloth) Or should it be that Tall Silk Beaver Hat? I was "big for my age", nearly six feet tall, broad of shoulder and butt, a shock of blond hair, a home spun shirt, jeans pants ending half way between knee and ankle and "Brogan" shoes, but with a bag full of money which was "burning my pocket". Up to that time my life had been spared the thought of my personal appearance, girls were just other people, but I had been overwhelmingly impressed by the looks and speeches of the politicians. They all seemed to me to wear long coats and high Beaver Hats—could I ever look like them? These were the ideas which were running through my head as I gazed into the store window. At this point the "Friendly Gent" put his hand on my shoulder and began to talk about his wares in one breath, and ask me about how much money I had with the next breath. I did not hesitate to tell him with too much pride, no doubt. I remember little about the exciting and convincing talk that must have fol lowed, but as I mounted and rode my mule, "bareback", over the five miles to home, strangers, acquaintances, friends, and relatives looked in amazement at me in Brogans, jean pants that were too small and a home-spun shirt and the Tall Silk Beaver Hat on my head. it poorly concealed the great shocks of hair beneath it as I rode along thinking about the office I would "Run for". I, and only I, knew that my money was all gone, so I say, "Never put all of your eggs in one basket."
The Will of James Addison Blackshear made, 12 Oct., 1914, Proven 28 July, 1917—Recorded Will Book B. pp. 371-2 Ordinary's Office, Americus, Sumter, Co. Ga.
Heirs: Daughters — Margaret Elizabeth Countryman, Roxie Ann Beachinan, Juda Va. Seals.
Grandchildren. "4 children of my son P. L. Blackshear, to wit: P. L. B., Jr.—Mrs. Carrie Bridges, Mrs. Elizabeth Newton & Mrs. Clara V. Bates"
"7 children of Mrs. Emma Barwick, to wit: John W, W. S., T. E., H. C., J. W., Miss M. E. & Miss C. E. Barwick."
Executor "My son-in-law—H. A. Countryman". Estate in Land—Live Stock—Cash & Chattels.
Witnesses H. C. Guy—C. W. Williams. 0. D. Reese, N.P.S. Co., Ga.
Cit. Family Bible via M. E. B. Countryman—Family Chart, J. Ap Blackshear (1865)—Grave-Stones—U.S. Census Reports—Raines Vol. S. p. 38.
---
---
©2022 These pages are served without commercial sponsorship. (No popup ads, etc...).Bandwidth abuse increases hosting cost forcing sponsorship or shutdown. This server aggressively defends against automated copying for any reason including offline viewing, duplication, etc... Please respect this requirement and DO NOT RIP THIS SITE. Questions?
<A HREF="http://www.piclist.com/techref/other/newtons/ps01/ps01_141.htm"> Newton Internet Family Tree</A>
---
Did you find what you needed?
---
| | |
| --- | --- |
| | Welcome to www.piclist.com! |
.