Tony Kubek's PC-Keyboard emulator
Tony says that this source is changed a bit from the original project (to remove project specific features and to further document and clarify the code) and has been tested on his PC but may need to be debugged. A previous version of this code has been used on many PC's without problems. Features include, alt-key remapping, automatic key repeat, and using a small keyboard matrix to provide many standard PC key codes.
The source code is more of a tutorial on PC Keyboard interface than the author is willing to admit; this is how most programs * should be * commented. No warranty expressed or implied, etc.... Its still a valuable piece of code.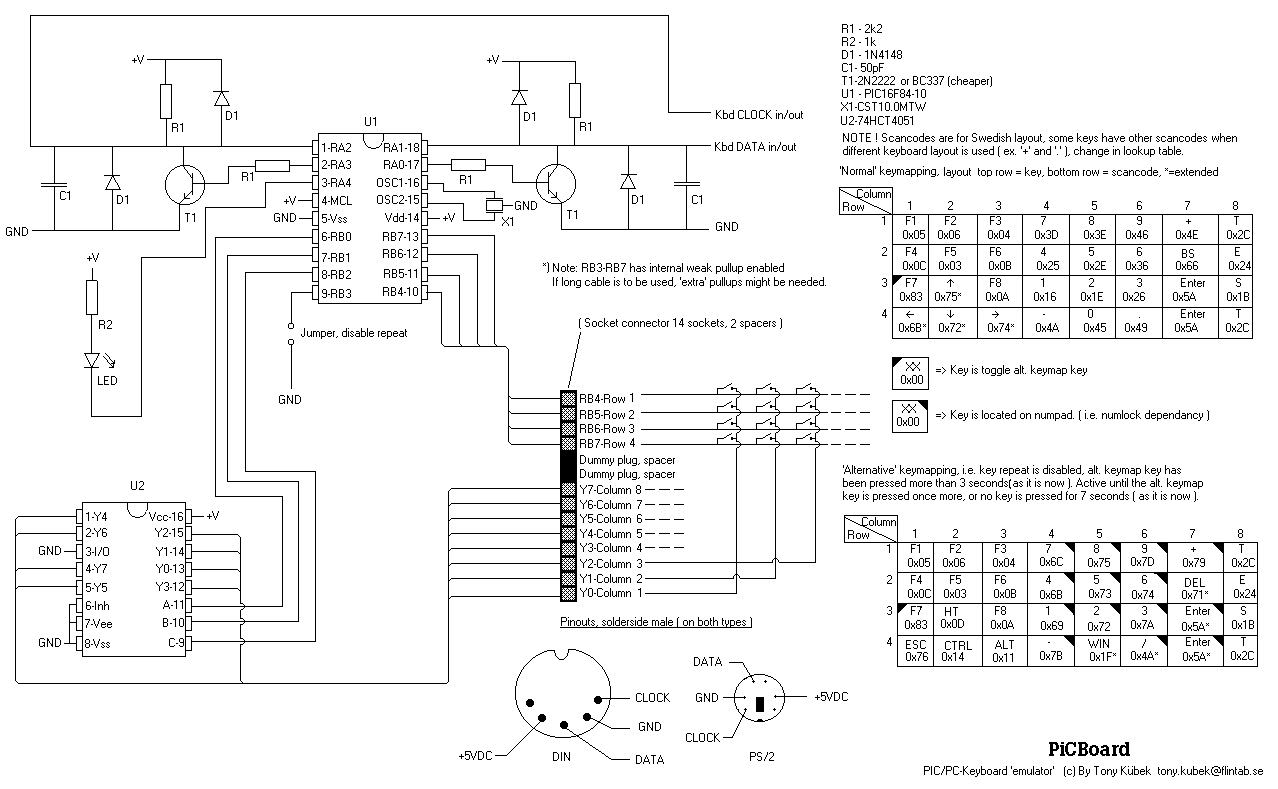 Questions:
See also:
---
---
©2021 These pages are served without commercial sponsorship. (No popup ads, etc...).Bandwidth abuse increases hosting cost forcing sponsorship or shutdown. This server aggressively defends against automated copying for any reason including offline viewing, duplication, etc... Please respect this requirement and DO NOT RIP THIS SITE. Questions?
<A HREF="http://www.piclist.com/techref/microchip/picboard.htm"> Tony Kubek's PC-Keyboard emulator using a PIC16F84</A>
---
Did you find what you needed?
---
PICList 2021 contributors:
o List host: MIT, Site host massmind.org, Top posters @20210921 Neil, Harold Hallikainen, RussellMc, Alan Pearce, Bob Blick, Allen Mulvey, Sean Breheny, Dwayne Reid, Justin Richards, madscientistatlarge,
* Page Editors: James Newton, David Cary, and YOU!
* Roman Black of Black Robotics donates from sales of Linistep stepper controller kits.
* Ashley Roll of Digital Nemesis donates from sales of RCL-1 RS232 to TTL converters.
* Monthly Subscribers: Gregg Rew. on-going support is MOST appreciated!
* Contributors: Richard Seriani, Sr.
| | |
| --- | --- |
| | Welcome to www.piclist.com! |
.