Signal
Computer

9 PIN
D-SUB
FEMALE

Cybiko

4 PIN
FEMALE

Transmit Data
3
2
Receive Data
2
1
Request to Send
7
3
Clear to Send
8
Data Set Ready
6
System Ground
5
4
Carrier Detect
1
Data Terminal Ready
4
Ring Indicator
9
Note: Testing for ground on the last pin is the safest way to ensure you have the pinout correct. My tests seem to show that the ground signal is on the pin closest to the power connector. The cable has an arrow pointing to the pin which is inserted furthest from the power conector. This seems to match with the schematic.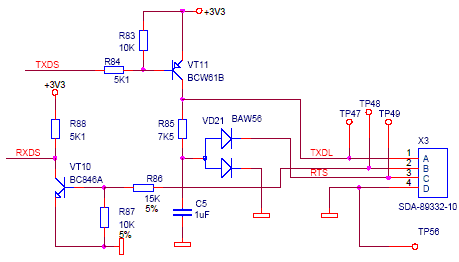 See also:
---
---
©2022 These pages are served without commercial sponsorship. (No popup ads, etc...).Bandwidth abuse increases hosting cost forcing sponsorship or shutdown. This server aggressively defends against automated copying for any reason including offline viewing, duplication, etc... Please respect this requirement and DO NOT RIP THIS SITE. Questions?
<A HREF="http://www.piclist.com/techref/cybiko/serial.htm"> Cybiko (9-4) Cable</A>
---
Did you find what you needed?
---
| | |
| --- | --- |
| | Welcome to www.piclist.com! |
.