Jan 1994 to May 1998: http://www.byte.com/art/art.htm
September 1987
"Karmarker's Algorithm" (with Andrew Rockett)
July 1986
Volumn 10 # 12 November 1985
"The uPD7281 Processor, a non-vonNeumann chip designed for high-speed parallel processing of images" by Tom Jefferys,
interview with Jay Milner the designer of the Amiga's Custom Graphics Chips
Raster Operations (inc Hardware)
Designing Systems for real-time Graphics.
CDROM drives,
using the Game Paddles on an Apple II to measure physical properties (light, temperature etc),
Steve Ciarcia
Extending Turbo Pascal
an Assembler for VM2
Jan 1985
Dec 1984
May 1984
June, 1983.
December 1982
"The 8051 One-Chip Microcomputer" by Howard Boyet
"A Versatile Low-Cost Microprocessor Controller Module" by David L. Craig,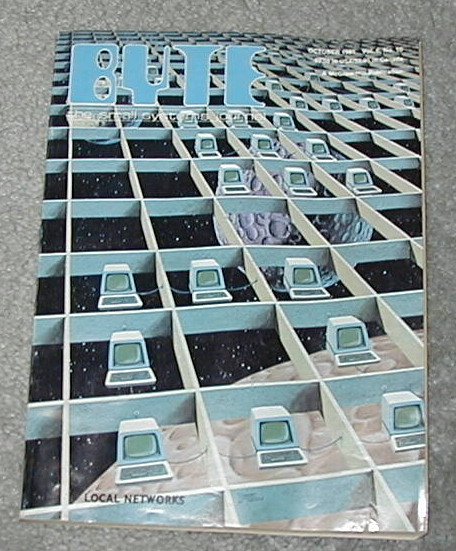 October 1981 Local Networks
September 1982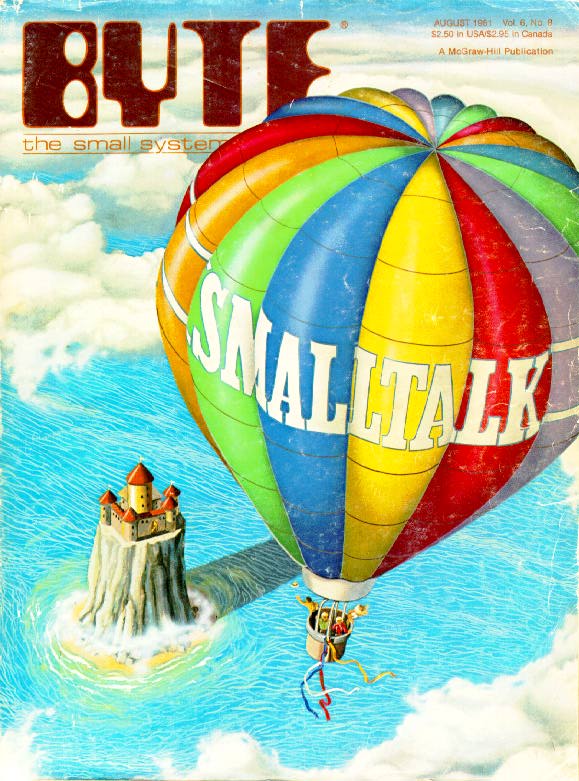 August 1981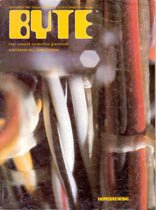 September 1980
EXPLORING BALLISTICS WITH YOUR COMPUTER by Robert W. Jenks. This BASIC program helps the target shooter to calculate the complex path of bullets.
AN INTERRUPT-DRIVEN REAL-TIME CLOCK FOR THE TMS 9900 by Thomas G. Morris Jr.
MACHINE PROBLEM SOLVING, PART 1: TRIAL-AND-ERROR SEARCH, A MECHANICAL PLAN TO SAVE THE MISSIONARIES by Peter W. Frey.
VARIETIES OF THREADED CODE FOR LANGUAGE IMPLEMENTATION by Terry Ritter and Gregory Walker. Some kinds of threaded code are position and system independent.
A BASIC FLOPPY-DISK ACCOUNTING SYSTEM by Joseph J. Roehrig.
KHACHIYAN'S ALGORITHM, PART 2: PROBLEMS WITH THE ALGORITHM by G. C. Berresford, A. M. Rockett, and J. C. Stevenson.
October 1980
"Khachiyan's Algorithm and the Microcomputer II" (with Geoffrey Berresford and Andrew Rockett)
September 1979
Cover art: "Fantasy on Homebrewing by Robert Tinney.
Foreground
Background

Some Musings on Hardware Design by Clayton Ellis pg 62 Simple design techniques
Soldering Techniques by William Trimmer pg 84
Handy Pulser by Bob Crisp pg 160 A simple, circuit-debugging tool
The AMSAT-GOLEM 80 by Joe Kasser pg 182
Add Some Control to Your Computer by Ken Barbier pg 196 Let your computer influence the outside world.
Also:
BYTE's first ad for a product called VisiCalc appeared in the September 1979 issue on page 51. The ad's text compared the time and effort it took to plan, project, write, estimate, calculate, revise, erase, and recalculate figures using a calculator, pencil, and paper, versus carrying out these steps by computer.
June 1979
10 A MODEL OF THE BRAIN FOR ROBOT CONTROL, Part 1: Defining Notation, by James Albus
49 MIND OVER MATTER, Add Biofeedback Input to Your Computer, by Steve Ciarcia
100 COMPUTER GENERATED MAPS, Part 2, by William D Johnston
132 THE NATURE OF ROBOTS, Part 1: Defining Behavior by William T Powers
176 DESIGNING A COMMAND LANGUAGE, by G A Van den Bout
36 SIMPLE MAZE TRAVERSAL ALGORITHMS, by Sandra and Stephen A Allen
60 MORE COLORS FOR YOUR APPLE, by Allen Watson III
70 A HOME FOR YOUR COMPUTER, by Doseph Dawes
74 TALK TO A TURTLE: Build a Computer Controlled Robot, by James A Gupton Jr
86 MY COMPUTER RUNS MAZES, by David E Stanfield
146 THE 1802 OP CODES, by Henry Melton
148 THE HISTORY OF COMPUTING: THE IBM 7070, by Keith S Reid-Green
152 ARTIFICIAL INTELLIGENCE AND ENTROPY, by R M Keihn
156 BASIC TEST EDITOR, by Fred Ruckdeschel
166 BUBBLE MEMORIES: A Short Tutorial, by A I Halsema
168 STACKS IN MICROPROCESSORS, by T Radhakrishnan and M B Bhat
228 TIMESHAREING: SQUEEZING THE MOST FROM YOUR MICRO, by Sheldon Linker
234 THREE TYPE OF PSEUDORANDOM SEQUENCES, by C Brian Honess
March 1979
66 THE STANDARD DATA ENCRYPTION ALGORITHM, Part 1: An Overview by Robert B Meushaw
94 DESIGNING WITH DOUBLE SIDED PRINTED CIRCUIT BOARDS, by David Lamkins
114 DESIGNING A ROBOT FROM NATURE, Part 2: Constructing the Eye, by Andrew Filo
142 A STEPPING MOTOR PRIMER, PART 2, by Paul Giacomo
150 BUILD A COMPUTER CONTROLLED SECURITY SYSTEM FOR YOU HOME, Part 3, by Steve Ciarcia
196 THE POWER OF THE HP-67 PROGRAMMABLE CALCULATOR, Part 1, by Robert C Arp Jr.
12 BUILDING THE HEATH H8 COMPUTER, by Dr Paul R Poduska
14 A MAP OF THE TMS-9900 INSTRUCTION SPACE, by Henry Melton
32 FILES ON PARADE, Part 2: Using Files, by Mark Klein
46 A MICROPROCESSOR FOR THE REVOLUTION: THE 6800, Part 3, by Terry Ritter and Joel Boney
56 CRYPTOGRAPHY IN THE FIELD, Part 1: An Overview, by John P Costas, Phd
80 PREVIOW OF THE Z-8000 by Ira Rampil
170 COMMON MISTAKES USING WARNIER-ORR DIAGRAMS, by David Higgins
194 PASSWORD PROTECTION FOR YOUR COMPUTER, by R Jordan Kreindler
230 WHAT IS AN INTERRUPT? by R. Travis Atkins
238 HISTORY OF COMPUTERS: THE IBM 650, by Keith S Reid-Green
February 1979
46 USE YOUR TELEVISION SET AS A VIDEO MONITOR, by Timothy Loos
70 THE ECLECTIC CARD READER, by Anthony J Schaeffer
90 A STEPPING MOTOR PRIMER: Theory of Operation, by Paul Giacomo
108 FAST FOURIER FOR THE 6800, by Richard H Lord
162 BUILD A COMPUTER CONTROLLED SECURITY SYSTEM FOR YOUR HOME, by Steve Ciarcia
12 DESIGN A ROBOT FROM NATURE: Biological Considerations, by Andrew Filo
32 A MICROPROCESSOR FOR THE REVOLUTION: The 6809, by Terry Ritter and Joel Boney
66 ANOTHER PLOTTER TO TOY WITH, by Peter A lucas
Build a plotter with an Etch-a-Sketch!
76 ASSEMBLING THE ADM-3A, by Paul Franson
84 A HOBBIST ROBOT ARM, by Keith Baxter and Timothy Daly
120 APPROACHING GAME PROGRAM DESIGN, by H L Stuck
154 UNLIMITED PRECISION DIVISION, by Jef Raskin
180 HAMMING ERROR CORRECTING CODE, by Michael Wimble
186 FILES ON PARADE: Types of Files, by Mark Klein
January 1979
jan1979_6809_Articles.pdf Foreground
56 BUILD A COMPUTER CONTROLLED SECURITY SYSTEM FOR YOUR HOME, by Steve Ciarcia Part 1 of 3
84 A COMPUTERIZED MAILING LIST, by Thomas E. Doyle
90 LIFE ALGORITHMS, by Mark B Niemiec
104 POLYPHONY MADE EASY, by Steven K Roberts
186 AN AUDIBLE LOGIC TEST PROBE, by James L Woodward
190 HISTORY OF COMPUTERS: The IBM 704, by Keith S Reid-Green
32 A MICROPROCESSOR FOR THE REVOLUTION: The 6809, by Terry Ritter and Joel Boney
74 AN EXPOSURE TO MUMPS, by David D Sherertz
100 THE DIGICAST YSTEM: Receiveing Data and Information Over Your FM Radio, by A I Halsema
110 GRANDMASTER WALTER BROWNE VERSUS CHESS 4.6, by John R Douglas
116 AN INTRODUCTION TO BNF, by W D Maurer
126 CREATING A CHESS PLAYER, Part 4: Strategy in Computer Chess, by Peter W Frey and Larry R Atkin
146 IPS, AN UNORTHODOX HIGH LEVER LANGUAGE, by Dr. Karl Meinzer
174 GOTOlocks AND THE THREE SORTS, by Gwen Hadley.
182 ELEMENTS OF STATISTICAL COMPUTATION, by Alan B Forsythe
August through December 1978
Tiny Pascal
Computer Chess
8 queens problem
Simpler digital cassette tape interface
Souping up your SWTPc 6800
Computer Chess tutorial
Bar code reader
PAM/8 Front Panel
Assembling the H9 Video display terminal
Ham radio
Communicating over VHF radio
Hobbiest Computer Bulletin Board System (HBBS) - Christienson
Altair S-100 to LSI-11 adapter
Interface your computer to a printing calculator
creating a chess player
Partitioned data sets
Fortran
Game of LIFE
non-contact touch sensor
Pascal vs Cobol
Pascal vs BASIC
Philadelphia's 179 year old android
Steve Ciarcia
June 1978
A PROGRAMMABLE CHARACTER GENERATOR, Part 2: Software Software-Weinstein
A PROGRAMMABLE IC TESTER Test Equipment- Thorson
MORE MUSIC FOR THE 6502 Software, Music-O'Haver
TALK TO ME: Add a Voice to Your Computer for $35 Speech Synthesis- Ciarcia
A THEATRICAL LIGHTING GRAPHICS PACKAGE Video Displays-Hemsath-Seawright-Ghent-Garrard
GRAPH: A SYSTEM FOR TELEVISION GRAPHICS: Part 2 Software, Video Graphics-Webster- Young
AUDIO PROCESSING WITH A MICROPROCESSOR Real Time Applications-O'Haver Background
NATURAL LANGUAGE PROCESSING AND SMALL SYSTEMS Tutorial-Tennant
GIVE AN EAR TO YOUR COMPUTER: A Speech Recognition Primer Artificial Intelligence-Georgiou
THE HP-67 AND HP-97: Hewlett-Packard's Personal Computers Product Review-Pearce
NOTES ON TEACHING WITH MICROCOMPUTERS Education-Norton
A LOOK AT SHUGART'S NEW FIXED DISK DRIVE Product Description -Morgan;
Cover art is Shakespeare's Cyrano de Begerac
February, May, June, and July 1978
KIM-1 Timer
Dynamic Memory
Short history of computing
keyboard function decoder
controlling dc motors
axiom EX800 printer
Programmable character generator
music for the 6502
add voice to your computer for $35
programmable ic tester
HP 67, HP 97
Shugart's new fixed drive (SA4000 $2550 for 14.5Mb)
3D graphics
Light wand amplifier
Matrox Alt-256 video board
3D plotting
Convert your TV set to a monitor
AC wireless remote control system (X-10)
Minifloppy (5.25" floppy)
CIE-Net (networking your PC)
Steve Ciarcia
Volumn 3 number 2, Feburary 1978
Foregeround

Ciarcia's Circuit Cellar: A Penny Pinching Address State Analyzer 6 Steve Ciarcia
Taking the First Step 35 Robert E. Bober
Simulation of Motion, Part 4: Extended Objects, Applications for Boating 42 Stephen P. Smith
Add A $3 Light Pen Video Display 52 John Webster, John Young
SWEETS for KIM: A Low Calorie Text Editor 62 Dan Fylstra
A Minifloppy Interface 114 David M. Allen

Background

CIE Net: A Design for a Network of Community Information Exchanges - Part 1, The Beginning 14 Mike Wilber
Some Musings on Boolean Algebra 25 Dan Bunce, Art Schwartz
Personal Computers in a Distributed Communications Networks 80 Jeff Steinwedel
The Brains of Men & Machines, Part 2: How the Brain Controls Outputs 84 Ernest W. Kent
Programming Entomology 162 Gary McGath
A Simple Digital Filter 168 Robert D. Grappel

Nucleus

In This BYTE 4
About the Cover 5
Complete ASCII 19 David M. Ciemiewicz
Letters 20
Languages Forum: The Case for a "Compiler Interpreter" 30 Richard Rodman
Languages Forum: APL Character Representations 30 David Sloan
Letter from the Publisher 60
BYTE's Bugs 93

Entomological Archives (June 1976)
Bugged Tidbit (October 1977)
Random Errors (November 1977)
A Sligthly Sour SWEET 16 (November 1977)

Ask BYTE 126
BYTE's Bits 127

The Future of Personal Computing at COMPCON 78
A Course
A Note for Robot Experimenters

Clubs, Newsletters 129
Languages Forum: Comments on APL Character Generators 134 Olav Naess
Languages Forum: Baking Baker 135 Shal Farley
Languages Forum: Reactions to Previous Comments 159 Leigh Janes
Technical Forum: Measuring Program Size 167 Stefan T. Dobrowolski
Technical Forum: Some Plotting Comments 172 T. P. Roberts
Technical Forum: A Standard for Writing Standards 175 David A. Wallace
New York Notes 178 Chris Morgan
What's New? 182, 200
Classified Ads 206
BOMB 208
Reader Service 208
Also: Ad: "6800/2 IS HERE"
Volumn 3 number 1, January 1978
July-Dec 1977, 6 issues
$19 music interface
8 channel DVM
Using the Polymorphics video interface
floppy disk tutorial
LISP
relative addressing for the 8080
Intercept JR
Use a UART for serial IO
6502 personal computer - Steve Wozniak !!
memory mapped io
using interrupts for real time clocks
NIM
APL Interpreter
Space War
8080 Simulator
C, a language for microcomputers?
Mastermind (game)
Othello
Scortos Music Language
Noval 760
Tiny Assembler
Cosmac VIP
8 digit hexidecimal readout
controlling small dc motors
computerize your model railroad
TV oscilloscope
Speech recognition
give your micro a megabyte
condensed reference chart for the 6800
Steve Ciarcia
SR-52 (TI Calculator)
Universal Touring Machine
Signal processing for bar code scanning
stretch that 6800 clock
AC-30 cassette interface
Processor Technology VDM-1
Inexpensive joystick interfaces
SWTPC PR-40 printer
multiplex your digital led displays
KIM goes to the moon
Tom Pittman's Tiny Basic
software controlled 1200bps tape system
Tiny assembler
Navigation with the mini-o
8008
Steve Ciarcia
Interfacing the Selectric keyboard printer
Artificial Intelligence
6800 Selectric IO
Guide to Baudot Machines
VOL 2 NUMBER 12 December 1977 (got it)
VOL 2 NUMBER 11 November 1977 (got it)
VOL 2 NUMBER 10 October 1977 (got it)
VOL 2 NUMBER 9 September 1977 (got it)
VOL 2 NUMBER 8 August 1977 (got it)
VOL 2 NUMBER 7 July 1977 (got it)
VOL 2 NUMBER 6 June 1977 (got it)
VOL 2 NUMBER 5 May 1977 (got it)
VOL 2 NUMBER 4 April 1977 (got it)
VOL 2 NUMBER 3 March 1977 (got it)
VOL 2 NUMBER 2 February 1977 (got it)
VOL 2 NUMBER 1 January 1977 (got it)
Foreground

Making Hash with Tables 18 Terry Dollhoff
How to Drive a Teletype without a UART 32 Gregory C. Jewell
Saturation Recording's Not All That Hard 34 David M. Allen
The Built-In Logic Tester 82 Kurt W. Christener
Build the "Coffee Can Special" EROM Eraser 91 Lawrence Burbey Jr.
Separate Your Sync 92 David Rosen
Using Interrupts to Speed Up an ELM 106 G. H. Gable

Background

Watts Inside a Power Supply 42 Gary Liming
Pick Up Basic by PROM Bootstraps 50 Jim Kreitner
Black Friday 56 Robert W. Baker
Types and Uses of Direct Access Storage 60 Curt Hill
SYS 8½.. Your Own Executive Commands 66 Willard I. Nico
Computer Models for Board Games 78 Russell R. Yost Jr.
A Computer Hobbyist Club Survey 116 David Caulkins

Nucleus

In This BYTE 2
Editorial: The Appliance Computer, Circa 1977 4 Carl Helmers
About the Cover 11
Update on Machine Readable Printed Programs 11
Book Reviews 11

Computer Power and Human Reason: from Judgement to Calculation Peter Travisano

Letters 16
What's New 72, 84

A Hard Copy Gem (Anderson Jacobson Inc. AJ 841)
Apply Your Computer's BASIC (Scientific Research Instruments)
SWTP 6800 BASIC (Southwest Technical Products Corp.)
A Classy New Microcomputer System (EDC Corp. MicroMind)
Don't Wince at This Fantom (Wintek Corp. Fantom II)
PDP-8 Cross Assembers from Microprocessors (Sierra Digital Systems X8)
Want to Trun an S100 Bus Computer into a Number Cruncher? Use This Hardware Floating Point Board (North Star Computers FPB Model A)
Applications Oriented Computer Terminal (Hewlett-Packard HP-3070A)
An 8080 Subroutine Utility Package (Pragmatic Systems UT1)
Paper Tape Holder (CV Spinks)
Software New Product: BASIC, ETC (Binary Systems Inc)
The $600 Floppy Disk Drive (Ohio Scientific Systems OSI 470)
Watch for These in the Parts Markets (AVX Ceramics)
A "Super" Star Trek game in BASIC... (David Michell)
It's All a Plot to Enable You to Draw with Your Computer (Sylvanhills Laboratory Inc DFT-1 and DFT-2)
Active Filter Activities... (National Semiconductor AF100)
A Pointer (Vector Electronics Slit-N-Wrap)
The SOL Source (Processor Technology SOL Terminal Computer)
A Patented Logic Trainer Computer (LJ Broder Enterprises)
Attention Educators (And Everybody Else Intersetd in Computers (Terak 8510)
Plasma Displays, Anyone? (Burroughs)

Product Description: Tutorial Training Computer 76
Software Bug of the Month: Answer to Software Bug 6 93 W. Douglas Maurer
Product Description: OSI 94 Robert W. Baker
Classfied Ads 96
BYTE's Bugs 97

Identification Ambiguities?
Further RS-232C Comments
A Glitch Pair in Close Orbit (September)
And, Notes on Coversion

BYTE's Bits 99, 104, 130

Call For Papers: ICCH/3
What Is It, 2
New Directions for Distributers
A Business Services Time Sharing Service
Consumber Notes... Collectors Items
Your Friendly Computer Store... The American Dream
Wonder About PDP-11s?
APL Enthusiasts Take Note

Some Candid Shots from PC 76 100 Marj Kirk
Kil O'Byte 114
Clubs, Newsletters 115
Clubs, Newsletters Directory 119
Ask BYTE 140
BOMB 144
Reader Service 144
VOL 1 NUMBER 16 December 1976 (got it)
Foreground

The Cybertecnic Crayon: A Low Cost Approach to Human Interaction with Color Graphics 24 Thomas A. Dwyer
The Cybertecnic Crayon - Using Computer Graphics as a Mediumn for Artistic Expression: A Portfolio of Explorations 139 Margot Critchfield
The Buried God in the SR-52 30 Clif Penn
Stretch That 6800 Clock 42 Jerry Henshaw
Don't Waste Memory Space (One Way to Squeeze fat Out of Text Strings 58 Robert W. Baker
Signal Processing for Optical Bar Code Scanning 77 Frederick L. Merkowitz
The Designer's Eye View of the AC-30 98 Gary Kay
A Universal Turing Machine 114 Jonathan K. Millen

Background

Samples of Machine Readable Printed Software - PAPERBYTES 12 Walter Banks, Roger Sanderson
Software for Reading Bar Codes 18 Keith Regli
Product Review: Processor Technology VDM-1 36 D. Anderson
Do It Yourself Weather Predictions 62 Michael R. Firth
Building the AC-30 Cassette Interface 110 Gary Liming

Nucleus

In This BYTE 2
Caught By Surprise 6 Carl Helmers
Clubs, Newsletters 48
Letters 50
BYTE's Bugs 54

BYTE's Ooooops... Correction to "If Only Sam Morse Could See Us Now" (October 1976)
Eugenics in Engineering - Correction to TTL inputs in July 1976 BYTE, page 100

Ask BYTE 56
What's New? 60, 87

Here It Is, a Builder's Eye View of the Lear Sieger "Dumb Terminal" Kit - ADM-3
Low Priced Disk System for Altair/IMSAIs: The North Star Micro-Disk System
DEC's LSI-11 Lexicon, Defined
KIM Had Twins: MOS Technology's KIM-2 and KIM-3
Attention Educators: Take a Look at the Texas Instruments Microprocessor Learning System
Cromenco: If You Z-1, You Z Them All?
Use a High Resolution Text Display: Matrox Electornic Systems' MYX-2480
A System Product with Software Orientation: American Microsystems AMI 6800 microcomputer development center

About the Cover...and the Contest 70
State of the Art Disk Technology 86
The information in this feature is based upon materials supplied by Shugart Associates.
Software Bug of the Month 6 91 W. Douglas Maurer
Desk Top Wonders 92
Shooting Stars (for the SR-52 and PC-100 Printer) Craig A. Pearce
The First West Coast Computer Faire 95
Introduction for the fair to be held at April 1977 and call for papers.
BYTE's Bits 60, 96
DECUS Fall Meeting; Come to the Boston IC Party?; No Back BYTEs; AFIPS NCC Proceeedings Are Now Available
Kil O'Byte 108
Book Reviews 120
The Technical Forum: A Proposal for a Universal Prototyping Bus Structure 128 David Washburn
Programming Quickies 132
6800 Anti-Wipeout Procedure
BOMB 144
Reader's Service 144
VOL 1 NUMBER 15 November 1976 (got it)
"It's more fun than crayons"
"Build the beer budget graphics interface"
"add this graphics display to your system"
"an enterprising dispay device"
"make your next peripheral a real eye opener"
"build this video display terminal"
"what is APL?"
"A tip for using wiring pencils"
"some graphics background information"
A proposed standard for publishing binary date in machine readable form
the address space saturation program
outstanding computer hobbyist
kil o' byte
What's new?, description: MERLIN video interface
144 pages total.
VOL 1 NUMBER 14 October 1976 (got it)
Build this mathematical function unit part I
Morse Code (6800 kit, code station data handler)
Computer versus hand sent Morse Code
Homebrewery
Keep Pace with Times
VOL 1 NUMBER 13 September 1976 (got it)
Foreground

Build This Mathematical Function Unit - Part 1: Hardware 26 R. Scott Guthrie
Randomize Your Programming 36 Robert D. Grappel
A BASIC Star Trek Trainer 40 Gerald H. Herd
How to do a Number of Conversions 50 James Brown
The Circuit for Z-80s 62 Robert Suding
A Flameless IC Recycling Trick 104 Jonathan Bondy, Ralph Droms
AMSAT 8080 Standard Debug Monitor: AMS80 Version 2 108 Richard C. Allen, Joe Kasser

Background

Are You an Author? 16

Are you the proud author of a piece of hobbyist software? If so, you are in the same class as the author of a novel, a play or any other kind of salable writing.

Calvin N. Mooers

The MSC 8080+ Microprocessor as a Personal System 44 Ken Barbier
Microprocessor Update: SC/MP Fills a Gap 76 Robert W. Baker
Machine Language Programming for the "8008" and similar microcomputers - Chapter 3 84 Nat Wadsworth

Nucleus

In This BYTE 4
Come On, Come All! 6
Letters 12
Software Bug of the Month 4 61 W. Douglas Maurer
BYTE's Bits 73

Attention: Southern California Readers, Educators
Microcomputer Interfacing Workshop
Functional Specification: Altair Bus Driver

What's New? 74, 81

OSI 400 System
Advance Information: Computalker CT-1 Speech Synthesizer
Catalog for Electronics Designing and Testing
Right from the Source: Intercept Jr
Software New Product: 8080 TRACE Program
OEMs and Kit Makers Take Note: TP-3120 Printer
A 6800 Evaluation Board - Plus EROM Programmer and Tiny BASIC!
More Tiny BASIC - Doctor Dobbs Is Really Moving
Get Up and Running Quickly with This Self Contained Package: Expander-68
The IMSAI Floppy Disk Subsystem
A PROM Resident 8080 Assembler
A Lab Computer, Anyone? - MiniMicro Designer
Attention: LSI-11 Hackers
Tutorial Computer Systems: UC 1800
Want to Get Unsual Tools?

Classified Ads 92
Clubs, Newsletters 98
Programming Quickies 124

8 Bit Fractional Multiplication

BOMB 128
Reader's Service 128
Vol 1 Number 12 August 1976 (got it)
Foreground

True Confessions: How I Relate to KIM 44 Yogesh M. Gupta
Build a TV Readout Device for Your Microprocessor 66 Robert Suding
Interfacing the 60 mA Current Loop 96 Walter S. King

Background

What Do You Do With a Video Disk? 6 Martin Buchanan
Friends, Humans, Contryrobots: Lend Me Lend Your Ears 16 Lloyd Rice
The Time Has Come to Talk 26 Wirt Atmar
Microprocessor Update: Zilog Z80 34 Burt Hashizume
Machine Language Programming for the "8008" and similar microprocessors - Chapter 2 40 Nat Wadsworth
Jack and the Machine Talk (or, The Making of an Assembler) 52 One day in 1975, Jack finally had it with machine language. Robert D. Grappel, Jack Hemenway
What's an I²L (I squared L)? 84 Terry Steeden

Nucleus

In This BYTE 2
Some Notes on Clubs 2 Carl Helmers What's New? 50

Don't Waste Time Loading from Tape ... Put a Chunk of EROM into Memory Address Space
Parallel Interfaced Audio Cassette Driver
Make Hard Copies With This Printer
IO Board With ROM Software
Calculator of the Month Club?
Sphere Graduates and Goes to Work for Businesses
The IMSAI 8080
Don't Let This One SC/MPer Away
Use This for the 'Ship's Console' of Your ENTERPRISE
Burn 2708 EPROMs with This Programmers
Here's Pair of Hardware Debugging Tools of Note
Attention: ALTAIR/IMSAI/MicroALTAIR Harware Hackers
Build This Printer Kit
OEM Floppy Systems Kit
It's About Time!
The AMT 2560
A First Briefcase Computer

Book Review 74
BYTE's Bugs 76
Update to PROM Programmer (May 1976), MATCH program (June 1976), Build the BIT BOFFER (March 1976) and page 94 of the June issue.
Classfield Ads 77
Software Bug of the Month 3 81 W. Douglas Maurer
Systems of Note 88

Here is a second example of BYTE's Systems of Note feature. The purpose of Systems of Note is to document what kinds of systems are being developed and utilzed by our readers, and how they are viewing the computer systems field as reflected in the choices of hardware and software componets. As an example of another system, here are my impressions of Roger Amidon's rather advanced shop. Each reader whose system description is submitted and publsed for this feature will receive an honorarium of $25 as BYTE's contribution to help further the state of the art.. Carl Helmers

Functional Specifications 95
Clubs, Newsletters 100
Tool Box Answers 126
BOMB 128
Reader's Service 128
VOL 1 NUMBER 11 July 1976 (wanted)
Foreground

Coincident Current Ferrite Core Memories 6 James R. Jones
Explore an 8080 with Educator-8080 22 Charles P. Howerton
The "Ignorance Is Bliss" Television Drive Circuit 38 Ken Barbier
Why Wait? Build A Fast Casette Interface 46 Robert Suding

Background

Assembling a Sphere 18 Bruce A. Anderson
Machine Language Programming for the "8080" and similar microcomputers - Chapter 1 30 Nat Wadsworth
Put The "Do Everything" Chip in Your Next Design 40 Robert W. Baker
Surplus Electronics in Tokyo and Manila 54 Michael N. Hayes
Make Your Own Printed Circuits 58 James Hogenson
A Plot Is Incomplete Without Characters 64 Richard J. Lerseth

Nucleus

In This Byte 2
The Trend Towards Hassle Free Computing 4 Carl Helmers
Tool Box 39 Robert W. Baker
BYTE's Bits 44, 79

Election Program
New Hope For Computer Phreaques
Some Electronics Industry News
Software Availabiliy Note: Perspective Plot Package (in ANSI FORTRAN Language)

Good Grief! 74
What's New? 76, 102

Itty Bitty Computer's Tiny BASIC for the 6800
Will You Look at That?
But It's New to Me

Software Bug of the Month 2 81 W. Douglas Maurer
What Happened at Trenton May 2 83
Clubs, Newsletters 86
Letters 90
Ask BYTE 95
Reader's Service 96
Classified Ads 98
BYTE's Bugs 100
Patching the Biorhyrhm Porgram (April)
How to Do It Better - Controlling External Devices With Hobbyist Computers (April)
Book Reviews 104
BOMB 112
VOL 1 NUMBER 10 June 1976 (bought)
Building an M6800 microcomputer MIKBUG
Building a TV display
Interact with an ELM
SCELBAL
Small Business Accounting System
PDP-8E / Intersil IM6100
Game of Life in color
VOL 1 NUMBER 9 May 1976 (bought)
PROMS
Octal Front Panel
Shooting Stars
Build a serial ascii word generator
A Date with KIM (KIM-1 microcomputer trainer)
PDP-8E / Intersil IM6100
VOL 1 NUMBER 8 April 1976 (bought)
Biorythm for computers
Controlling external interfaces with hobbyist computers
Interface an ascii keyboard to a 60ma tty loop
IO Strobes for the Altair 8800
TI SR-52
TI TMS9900 (later used in the TI99/4A)
VOL 1 NUMBER 7 March 1976 (bought)
Digital Data on cassette recorders
Compleat (sic) Tape Cassette Interface
Microprocessor update CP1600
What's in a video display terminal
VOL 1 Issue 6, February 1976 (got it)
Build a TTL Pulse catcher
Dressing up front panels
processing algebraic expressions
The new Altair 680
How to save the bytes
TV Color Graphics (Don Lancaster - a famous article)
Could a computer take over?
Keyboard modification
VOL 1 NUMBER 5 January 1976 (got it)
Let there be Light Pens
The Game of Life part 4
Golf Handicapping
Intel 8080 op code table
Total Kitchen Information System
Mini-Microcomputer system
Wire wrapping
CT-1024 kit
Vol 1 Issue 4, December 1975 (got it)
Powerless IC test clip
The Game of Life part 3
Can your computer tell time?
Logic probes
HP-65
Assembling an Altair 8800
VOL 1 NUMBER 3 November 1975 (got it)
Ins and Outs of volitile memory
Computers and Amateur Radio
Son of Motorola, or the $20 CPU Chip
Hexpawn
Monitor 8 1/2
Versitile read only memory programmer
VOL 1 NUMBER 2 October 1975 (got it)
Build a Graphics Display
TV Interface (Don Lancaster - very famous article!)
NOVAL assembler
Kluge Harp
Buck Rogers and the Home Computer
Game of LIFE part 2
VOL 1 NUMBER 1 September 1975 (wanted)
Which Microprocessor is right for you?
Cassette Interface - Your key to inexpensive bulk memory
Assembling your assembler
Can you use these surplus keyboards?
RGS 008A Micrcomputer kit
Game of LIFE
James Newton Says:
I have:

Volumn 1 #2-10, 12-16 and "Best of Byte Volumn 1" which covers most content in the first 12 issues.
There are 16 issues in the first volumn spanning Sep 75 thru Dec 76
+
James Newton Says: " Wish list:
" +
See also:
James Newton Says:
Selling:
+
Comments:
---
---
©2014 These pages are served without commercial sponsorship. (No popup ads, etc...).Bandwidth abuse increases hosting cost forcing sponsorship or shutdown. This server aggressively defends against automated copying for any reason including offline viewing, duplication, etc... Please respect this requirement and DO NOT RIP THIS SITE. Questions?
<A HREF="http://www.piclist.com/techref/article/byte/index.htm"> Byte Magazine</A>
---
Did you find what you needed?
---
PICList 2014 contributors:
o List host: MIT, Site host massmind.org, Top posters @20140829 RussellMc, Richard R. Pope, IVP, John Gardner, alan.b.pearce, David C Brown, James Cameron, Josh Koffman, Bob Blick, Isaac Marino Bavaresco,
* Page Editors: James Newton, David Cary, and YOU!
* Roman Black of Black Robotics donates from sales of Linistep stepper controller kits.
* Ashley Roll of Digital Nemesis donates from sales of RCL-1 RS232 to TTL converters.
* Monthly Subscribers: Gregg Rew. on-going support is MOST appreciated!
* Contributors: Richard Seriani, Sr.
| | |
| --- | --- |
| | Welcome to www.piclist.com! |
.