Pin diagrams ( XC9572-PC84/XC95108-PC84 )
The following item is used to know the position of the pin.
*The direction of the printed name.
*A corner in the upper left is shaved.


A pin numbering is counterclockwise given from the center of the line in the topside. Note is necessary to the pin arrangement by the Function Block and the macrocell because it a little irregular-ly. In case of XC9572-PC84, the macrocells which corresponds to the input/output pins are 69 macrocells in the 72 macrocells. In case of XC95108-PC84, they are 69 macrocells in the 108 macrocells.
The macrocells which don't correspond to the input/output pins can be used only in the logic circuits inside.


The figure below is the top view of CPLD of 84 pins.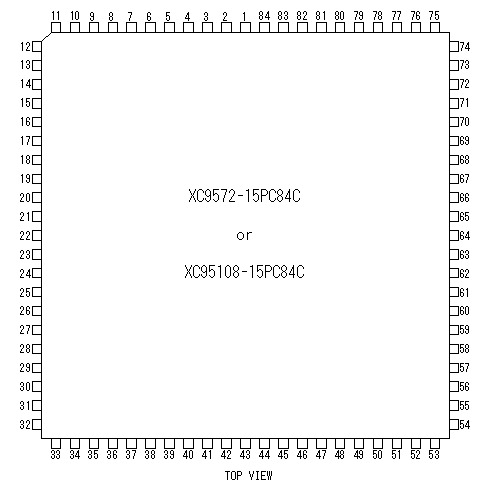 The pins colored purple are pins for JTAG.
Pin Diagram of XC9572-15PC84C
FB : Function Block number

Pin number
FB
Macrocell
Pin number
FB
Macrocell
1
1
2
43
3
13
2
1
5
44
4
2
3
1
6
45
3
16
4
1
1
46
4
1
5
1
8
47
4
5
6
1
3
48
4
8
7
1
4
49
GND
8
GND
50
4
9
9
1
9
51
4
3
GCK1
10
1
11
52
4
4
GCK2
11
1
7
53
4
11
12
1
14
54
4
6
GCK3
13
1
10
55
4
7
14
1
15
56
4
14
15
1
17
57
4
10
16
GND
58
4
12
17
3
2
59
TDO
18
1
12
60
GND
19
3
5
61
4
13
20
1
13
62
4
16
21
3
8
63
2
1
22
VccIO 3.3V/5V
64
VccIO 3.3V/5V
23
1
16
65
4
15
24
1
18
66
4
17
25
3
1
67
2
3
26
3
9
68
2
4
27
GND
69
2
2
28
TDI
70
2
5
29
TMS
71
2
6
30
TCK
72
2
8
31
3
3
73
VccINT 5V
32
3
4
74
2
9
GSR
33
3
11
75
2
10
34
3
6
76
2
7
GTS1
35
3
7
77
2
11
GTS2
36
3
14
78
VccINT 5V
37
3
15
79
2
12
38
VccINT 5V
80
2
13
39
3
17
81
2
14
40
3
10
82
2
16
41
3
12
83
2
15
42
GND
84
2
17
Pin Diagram of XC95108-15PC84C
FB : Function Block number

Pin number
FB
Macrocell
Pin number
FB
Macrocell
1
1
2
43
5
15
2
1
3
44
5
17
3
1
5
45
6
2
4
1
6
46
6
3
5
1
8
47
6
5
6
1
9
48
6
6
7
1
11
49
GND
8
GND
50
6
8
9
1
12
51
6
9
GCK1
10
1
14
52
6
11
GCK2
11
1
15
53
6
12
12
1
16
54
6
14
GCK3
13
1
17
55
6
15
14
3
2
56
6
17
15
3
3
57
4
2
16
GND
58
4
3
17
3
5
59
TDO
18
3
6
60
GND
19
3
8
61
4
5
20
3
9
62
4
6
21
3
11
63
4
8
22
VccIO 3.3V/5V
64
VccIO 3.3V/5V
23
3
12
65
4
9
24
3
14
66
4
11
25
3
15
67
4
12
26
3
16
68
4
14
27
GND
69
4
15
28
TDI
70
4
17
29
TMS
71
2
2
30
TCK
72
2
3
31
3
17
73
VccINT 5V
32
5
2
74
2
5
GSR
33
5
3
75
2
6
34
5
5
76
2
8
GTS1
35
5
6
77
2
9
GTS2
36
5
8
78
VccINT 5V
37
5
9
79
2
11
38
VccINT 5V
80
2
12
39
5
11
81
2
14
40
5
12
82
2
15
41
5
14
83
2
16
42
GND
84
2
17