Truncated match.
PICList Thread
'AW: [PIC]: PIC "powered a little bit by USART"'
2010\05\31@092412 by Peter Feucht

Isaac,

My level shifter is built with discretes and it is powered by the V24 of the
PC, there is no separate power supply for it.

No, the level shifter is NOT powered down, it constantly delivers +5V via a
3,3K resistor to my Rx pin of my PIC.

Peter




-----Ursprüngliche Nachricht-----
Von: spam_OUTpiclist-bouncesTakeThisOuT

mit.edu [.....piclist-bouncesKILLspam

@spam@mit.edu] Im Auftrag von
Isaac Marino Bavaresco
Gesendet: Montag, 31. Mai 2010 14:57
An: Microcontroller discussion list - Public.
Betreff: Re: [PIC]: PIC "powered a little bit by USART"

Em 31/5/2010 09:38, Peter Feucht escreveu:
{Quote hidden}

Is your level shifter a MAX232-like device or something with discrete
devices?

When you switch off power to the board with the PIC, is your level shifter
powered-down also?

A schematic diagram would help.


Regards,

Isaac

__________________________________________________
Fale com seus amigos de graça com o novo Yahoo! Messenger
http://br.messenger.yahoo.com/
2010\05\31@101157 by Isaac Marino Bavaresco
Em 31/5/2010 10:23, Peter Feucht escreveu:
> Isaac,
>
> My level shifter is built with discretes and it is powered by the V24 of the
> PC, there is no separate power supply for it.
>
> No, the level shifter is NOT powered down, it constantly delivers +5V via a
> 3,3K resistor to my Rx pin of my PIC.
>
> Peter
>

It seems that your circuit is applying voltage to the PIC's RX pin, and
the internal diodes are powering-up the PIC with this voltage.

So you should change your circuit so it won't apply voltage to the PIC's
RX pin when it is not powered-on. Perhaps using a common-emitter NPN
transistor with a pull-up resistor to the PIC's VCC.


Regards,

Isaac

__________________________________________________
Fale com seus amigos de graça com o novo Yahoo! Messenger
http://br.messenger.yahoo.com/

2010\05\31@101320 by John Coppens
On Mon, 31 May 2010 15:23:25 +0200
"Peter Feucht" <p.feucht

KILLspampalmed-medizintechnik.de> wrote:

> No, the level shifter is NOT powered down, it constantly delivers +5V
> via a 3,3K resistor to my Rx pin of my PIC.

Well, that's the problem. The input protection diodes of the PIC will
take the external +5V, and feed the PIC. Those diodes are not very good,
so the PIC will probably have something like 4V left, accounting for the
erratic behaviour. The 78L05 and other elements will be loading the +5
line too.

You'll have to change the level shifter so its supply comes from
regulator.

John

2010\05\31@103744 by Isaac Marino Bavaresco
part 0 44 bytes
his is a multi-part message in MIME format.
part 1 989 bytes content-type:text/plain; charset=ISO-8859-1 (decoded 7bit)

Em 31/5/2010 11:11, Isaac Marino Bavaresco escreveu:
{Quote hidden}

Try this circuit, it works well and I use it extensively.


Regards,

Isaac



part 2 22801 bytes content-type:image/jpeg; (decode)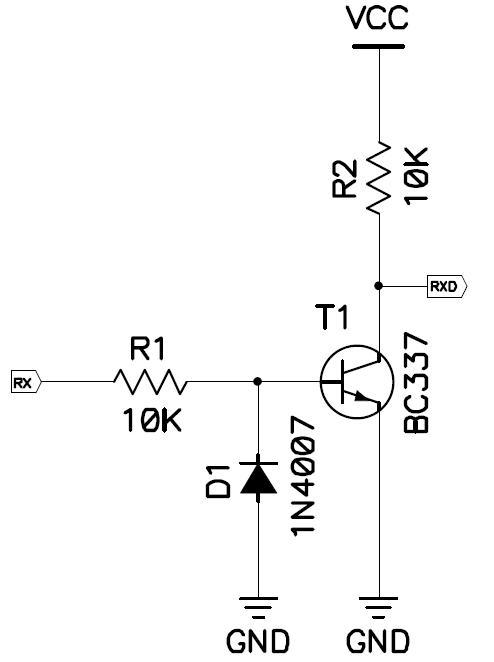 ---

part 3 35 bytes content-type:text/plain; charset="us-ascii"
(decoded 7bit)


2010\05\31@211429 by Isaac Marino Bavaresco

Em 31/5/2010 20:56, Olin Lathrop escreveu:
> Isaac Marino Bavaresco wrote:
>
>> Try this circuit, it works well and I use it extensively.
>>
> "Well" for some cases. Note this is a inverting circuit, and as such is
> meant to replace the RS-232 receiver, not to be added in line with its logic
> output.

Accordingly to his original post, it seems to be exactly what he needs.
If it were a logic output, he would not need a level translator at all.

{Quote hidden}

There are some MAXxxx devices that detect and signal invalid levels, but
the majority just detects any negative voltage as '1' and any positive
voltage above some threshold as '0', exactly as this circuit.


> Basically, this circuit relies on the other side doing things right so that
> you can get away with being sloppy. That will work a lot of the time, but
> doesn't make it a good idea.
>

Works well most of time (not to say all the time). Perhaps it may fail
for very long and noisy lines. It will surely work for a short
connection directly to a PC serial port.
I used this circuit already for networks with more than 10 slaves
distributed along lines over 100m long at 19200bps.


Isaac

__________________________________________________
Fale com seus amigos de graça com o novo Yahoo! Messenger
http://br.messenger.yahoo.com/

---
'AW: [PIC]: PIC "powered a little bit by USART"'
2010\06\02@104549 by Peter Feucht

Gentlemen,

By the way, are there no girls in this forum?

My problem was easily solved.

Thanks to various inputs from many people it seems, that my PIC is operated
via the protection diodes. For I have this always recommended series
resistor of 3,3K in my Rx line I simply shunted my PIC with a 220 ohm
resistor, so in case of switching off the 5V power the injected voltage
results in such a low operating voltage (about 0,3V) that the 628 resets
fine.

OK, it is a somehow dirty method, but it works for my test setup.

Thanks to everbody!

Peter



More... (looser matching)
- Last day of these posts
- In 2010 , 2011 only
- Today
- New search...