Exact match. Not showing close matches.
PICList Thread
'[TECH] Single Layer Autorouter?'
2009\01\31@203324 by solarwind
Hey all, does anyone know of a single layer autorouter for PCB design?

All the free tools I've downloaded require at least two sides to autoroute.

--
solarwind

2009\01\31@214817 by Bob Blick
solarwind wrote:
> Hey all, does anyone know of a single layer autorouter for PCB design?

What you do is set the cost of one of the sides higher, so it minimizes
routing on one side. Then for the traces you must have on the expensive
side, adjust the routes so you can use jumper wires.

Also you can selectively use keepouts on the expensive side.

Cheers,

Bob

2009\01\31@215642 by solarwind
On Sat, Jan 31, 2009 at 9:48 PM, Bob Blick <spam_OUTbobblickTakeThisOuT

ftml.net> wrote:
> What you do is set the cost of one of the sides higher, so it minimizes
> routing on one side. Then for the traces you must have on the expensive
> side, adjust the routes so you can use jumper wires.
>
> Also you can selectively use keepouts on the expensive side.
>
> Cheers,
>
> Bob

Which router are you referring to? I was trying to use the
freerouting.net router.


--
solarwind

2009\01\31@215900 by William \Chops\ Westfield

On Jan 31, 2009, at 5:33 PM, solarwind wrote:

> All the free tools I've downloaded require at least two sides to
> autoroute.

EAGLE will autoroute on one side; just set the direction of the other
side to "NA."
Note that it doesn't do a very good job, and it seems to be a
characteristic of autorouters in general to be aimed at using more
than one layer...

BillW


2009\01\31@220852 by solarwind
On Sat, Jan 31, 2009 at 9:48 PM, Bob Blick <.....bobblickKILLspam

@spam@ftml.net> wrote:
> What you do is set the cost of one of the sides higher, so it minimizes
> routing on one side. Then for the traces you must have on the expensive
> side, adjust the routes so you can use jumper wires.
>
> Also you can selectively use keepouts on the expensive side.
>
> Cheers,
>
> Bob

Yes!!!!!!!!!!!!!!!!!!!!1 I love you!

freerouting.net is awsome. There was a little menu in there that
allowed you to disable any layer you want and it routed it for me. It
took 6 passes and a long time but it did it on one layer!


--
solarwind

2009\01\31@232455 by Bob Blick
solarwind wrote:
> On Sat, Jan 31, 2009 at 9:48 PM, Bob Blick <bobblick

KILLspamftml.net> wrote:
>> What you do is set the cost of one of the sides higher, so it minimizes
>> routing on one side. Then for the traces you must have on the expensive
>> side, adjust the routes so you can use jumper wires.
>>
>> Also you can selectively use keepouts on the expensive side.
>>
>> Cheers,
>>
>> Bob
>
> Which router are you referring to? I was trying to use the
> freerouting.net router.

They say they use specctra rules, so this works pretty well in specctra:

cost layer 1 high
cost layer 2 free

your choices for cost are free, low, high, medium, high, forbidden. or
you can use 0 through 100.

Cheers,

Bob



---
'[TECH] Single Layer Autorouter?'
2009\02\01@100846 by olin piclist

solarwind wrote:
> Hey all, does anyone know of a single layer autorouter for PCB design?
>
> All the free tools I've downloaded require at least two sides to
> autoroute.

You can set the cost of the second layer very high, set the cost of vias
very high, make the unwanted layer a big keepout region, etc.


********************************************************************
Embed Inc, Littleton Massachusetts, http://www.embedinc.com/products
(978) 742-9014. Gold level PIC consultants since 2000.


Olin Lathrop wrote:
> solarwind wrote:
>
>> Hey all, does anyone know of a single layer autorouter for PCB design?
>>
>> All the free tools I've downloaded require at least two sides to
>> autoroute.
>>
http://www.diptrace.com/

Regards Roy


2009\02\01@145807 by Forrest W Christian

Royh wrote:
> http://www.diptrace.com/
>
Yes, very nice software. That's what I use for design exclusively. I
never could get my mind around Eagle, and I was willing to spend around
$1K on a schematic capture/PCB layout software, so I obtained an eval
copy of almost every design suite I could find, and ended up with
Diptrace. True, it still has some quirks, but it seemed to be th eone
which was the most compatible with me.

The 250 pin freeware should handle most starting designs, and it's not
that much to add additional pins. I think I started with the light
version (500 pins, 2 signal layers - which is more than most of my
designs), and then upgraded to the full when they were running a promo
around christmas a year or two ago.


-forrest


2009\02\01@155013 by solarwind

On Sun, Feb 1, 2009 at 2:57 PM, Forrest W Christian <.....forrestcKILLspam

.....imach.com> wrote:
> Royh wrote:
>> http://www.diptrace.com/
>>
> Yes, very nice software. That's what I use for design exclusively. I
> never could get my mind around Eagle, and I was willing to spend around
> $1K on a schematic capture/PCB layout software, so I obtained an eval
> copy of almost every design suite I could find, and ended up with
> Diptrace. True, it still has some quirks, but it seemed to be th eone
> which was the most compatible with me.
>
> The 250 pin freeware should handle most starting designs, and it's not
> that much to add additional pins. I think I started with the light
> version (500 pins, 2 signal layers - which is more than most of my
> designs), and then upgraded to the full when they were running a promo
> around christmas a year or two ago.
>
>
> -forrest

So, for all you diptrace users, how do you find the autorouter?


--
solarwind

2009\02\01@200218 by Forrest W Christian
solarwind wrote:
> So, for all you diptrace users, how do you find the autorouter?
Up near the top in PCB, there's this thing called the menu..

It says "File Edit View Objects Library Route Placement Verification
Layer Programs Help".

You might want to check in "Route".

-forrest



2009\02\01@200923 by solarwind
On Sun, Feb 1, 2009 at 8:01 PM, Forrest W Christian <EraseMEforrestcspam_OUT

TakeThisOuTimach.com> wrote:
> solarwind wrote:
>> So, for all you diptrace users, how do you find the autorouter?
> Up near the top in PCB, there's this thing called the menu..
>
> It says "File Edit View Objects Library Route Placement Verification
> Layer Programs Help".
>
> You might want to check in "Route".
>

No no, I mean how do you like it? Do you think it's good?

--
solarwind

2009\02\01@205228 by Gordon Williams

>
> EAGLE will autoroute on one side; just set the direction of the other
> side to "NA."
> Note that it doesn't do a very good job, and it seems to be a
> characteristic of autorouters in general to be aimed at using more
> than one layer...

I've heard other people complain about Eagle autorouter, but for single
sided boards I've found it to be a useful tool. It quickly gives you an
idea where the potential bottlenecks are for routing traces. Sometimes
components need to be moved or rotated to get better path placement. Once
you see what the router suggests you can go back an manually route some with
jumpers to clean up the arrangement.

Gordon Williams


2009\02\02@025548 by Forrest W. Christian

solarwind wrote:
> \No no, I mean how do you like it? Do you think it's good?
Now we've got our context straight :).....

I'm going to answer this this way: I have yet to find a single
autorouter which I felt was even close to what I could do by hand. I
would love to find a tool that I could say "here's the board, here's
where the fixed stuff goes - you figure out the rest"... but alas, it
doesn't seem to exist, at least not at the low end.

I find that routing is as much about component placement as it about
connecting the traces. You also have to through in a bit of circuit
revision as well.

I'll try to explain a bit... let's say you put a big circuit on the
board, and sort of randomly place the components with little regard for
what is connected to what. It is going to be almost impossible to route
neatly. If instead, you place based on what is connected to what, and
are willing to move components around a bit as the routing evolves, and
for components with multiple parts inside, being willing to do part
swaps, or pinning changes, or the like, you can get a very clean board
without a lot of vias by just using both sides of a board.

Like I said, I have yet to see an autorouter even come close to what a
human can produce. Not to say there aren't nice autorouters out there,
but for many applications it just doesn't seem to be worth it - at least
to me.

Of course, my experience with the very high end autorouters are limited
at best....

On a more specific note, I find the router in diptrace to be not really
better or worse than any others. I know that they have made it better
in 2.0... but what better means I don't know. For now, I just route
by hand.

-forrest

2009\02\02@075233 by olin piclist
Gordon Williams wrote:
> I've heard other people complain about Eagle autorouter,

I think this is mostly because they don't spend the time to really
understand it and adjust all the various settings appropriately. You also
have to understand up front that no auto router applied to a meaningful
board is fire and forget. I usually route a few critical things by hand,
manually punch all ground connections to the ground plane if there is one,
then do a auto route with no optimization passes. That lets me see where
the trouble spots are, net classes I got wrong (this is very easy to do in
Eagle), etc. Routing a board is a iterative process that you have to be
envolved with. The auto router is very useful for taking care of the
mundane stuff without introducing errors and is a great time saver. For
that it works well.


********************************************************************
Embed Inc, Littleton Massachusetts, http://www.embedinc.com/products
(978) 742-9014. Gold level PIC consultants since 2000.

2009\02\02@093937 by olin piclist
part 1 2700 bytes content-type:text/plain; (decoded 7bit)

Forrest W. Christian wrote:
> Like I said, I have yet to see an autorouter even come close to what a
> human can produce. Not to say there aren't nice autorouters out
> there, but for many applications it just doesn't seem to be worth it
> - at least to me.

That is because you are looking at the auto router the wrong way. You
shouldn't expect it to produce something just as neat and tidy and clean
looking as as what a human can do given sufficient time. The real purpose
is to take care of the 90% of the routing where there is no advantage for a
human to do it. It will do this much faster and guarantee to pay attention
the whole time and always adhere to the design contraints like track width,
space width, keepout areas, etc.

You also seem to put some misplaced priority on asthetics. The electrons
don't care how pretty you think the route is. There are usually a few key
paths where physical layout does matter. Spend your expert human time
making sure those are logically routed. Most paths are not critical and
don't matter if they get routed a few inches longer or have a few extra vias
in them. Making them look pretty isn't going to make the circuit more
reliable or cheaper or better. Remember that "good enough" is by definition
good enough.

This weekend I did a layout and route on a respin of a board that is over 90
square inches. Of course I manually routed a few critical sections. These
included high current paths of the switching power supply, ground and
sub-ground connections, sensitive areas like the crystal connections to the
PIC, and a bus just to keep it from getting all tangled and making it hard
or impossible to route other parts. But going further would have been a
waste of time and not been good value to the customer. It took the auto
router nearly 5 hours to do all the stuff I didn't. It would have taken me
much longer, and then I probably would have made a few mistakes.

As a example, I attached a small area of the board drawing. IC22 and IC23
are connected to the same 8 bit data bus at top. This bus goes to a lot of
places and I manually routed it. The bottom pins of these two chips go to
connector P215. The pin order happened to be flipped backwards from the
order on the connector. Sure, I could have spent time manually routing this
and possibly even changing the placement so that they wouldn't be flipped,
but why bother? I knew the auto router could do this and get it right.
What it came up with may not look pretty by human asthetics, but it's
perfectly fine electrically. Maybe this could have been done with a few
less vias, but again, what's the point?


part 2 28765 bytes content-type:image/gif; (decode)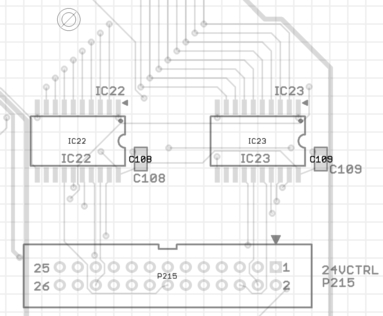 ---

part 3 35 bytes content-type:text/plain; charset="us-ascii"
(decoded 7bit)


More... (looser matching)
- Last day of these posts
- In 2009 , 2010 only
- Today
- New search...