Exact match. Not showing close matches.
PICList Thread
'[OT] Digital Picture Archiving'
2007\06\25@032022 by Josh Koffman
Hi all,

I have a bit of a problem and I'm sure there's gotta be a better way
to deal with this. Ever since I bought a digital camera (about 2 years
ago) I've been taking a lot of pictures. I store them all on my
laptop's drive and I think this is a bit of a waste of space. I do
like having my pictures with me, but there isn't any need for full 4-6
megapixel images at all times.

So what I'd like to do is archive all my images to an external drive
(and DVDs for safety as well). Then I want to downscale my images and
keep those ones on my harddrive.

This project would have two parts...first converting all my current
images, then coming up with a process that isn't ridiculously arduous
for the future.

Any thoughts? I already use Picasa and I know I could use it to scale
my images...Is it reasonable to get it to do that for a few thousand
pictures at once though?

Thanks!

Josh

--
A common mistake that people make when trying to design something
completely foolproof is to underestimate the ingenuity of complete
fools.
-Douglas Adams

2007\06\25@032908 by Dario Greggio
Josh Koffman wrote:
> Any thoughts? I already use Picasa and I know I could use it to scale
> my images...Is it reasonable to get it to do that for a few thousand
> pictures at once though?

Funny, am doing this right now :)
http://picasaweb.google.com/DarioMaverick

I've been using (and still use now) a JPEG rescaler software in DOS
(written by myself some time ago, based on some open sources) and a DOS
BATCH File, which I let run into the desired folder.
It converts all of the present images, and places them into a "sm" folder.

I can send it to you, if you want.

--
Ciao, Dario

2007\06\25@073232 by Gerhard Fiedler
Josh Koffman wrote:

> This project would have two parts...first converting all my current
> images, then coming up with a process that isn't ridiculously arduous
> for the future.
>
> Any thoughts? I already use Picasa and I know I could use it to scale
> my images...Is it reasonable to get it to do that for a few thousand
> pictures at once though?

Not sure about Picasa, but IrfanView (freeware picture viewer) has a batch
mode.

Gerhard


2007\06\25@080218 by Lee Jones

> Ever since I bought a digital camera (about 2 years ago) I've been
> taking a lot of pictures. I store them all on my laptop's drive and
> I think this is a bit of a waste of space. I do like having my
> pictures with me, but there isn't any need for full 4-6 megapixel
> images at all times.
>
> So what I'd like to do is archive all my images to an external drive
> (and DVDs for safety as well). Then I want to downscale my images and
> keep those ones on my harddrive.

Apple's Aperture software can do this. It keeps a thumbnail of the
image online and allows you to have the original on offline media
(DVD or unconnected external hard disk).

> This project would have two parts...first converting all my current
> images, then coming up with a process that isn't ridiculously arduous
> for the future.
>
> Any thoughts? I already use Picasa and I know I could use it to scale
> my images...Is it reasonable to get it to do that for a few thousand
> pictures at once though?

Normally, Aperture uploads from a single memory reader at a time.
One professional photographer got a script from the Aperture that
allows him to upload from 8 CompactFlash readers at once, so it can
handle a few thousand images on a daily basis.

Adobe's Lightroom software may have similar capabilities.

Lee Jones






I bought a Road-Stor unit. I transfer ALL my digital photos to CD.
I can then downsize to my hearts content and transfer the ones I want
to my laptop if I desire.

The Road-Stor unit costs about $350.00 or so when I bought mine. I'm sure
they probably cost less than that now.

Anyway, this is what I suggest.


Good luck,


Jim



{Quote hidden}

> --
2007\06\25@101924 by Russell McMahon


part 1 6899 bytes content-type:text/plain; format=flowed; charset="iso-8859-1"; (decoded 7bit)

>> Any thoughts? I already use Picasa and I know I could use it to
>> scale
>> my images...Is it reasonable to get it to do that for a few
>> thousand
>> pictures at once though?

> Not sure about Picasa, but IrfanView (freeware picture viewer) has a
> batch
> mode.

What he said.
Irfanview is an extremely useful tool for many photo related tasks.
Not perfect but very good.
Also look at XNVIew, which is also free and also good.
Both have relative strengths and weaknesses. I use both in tandem.

The following is about Irfanview.

It's batch resize feature is flexible and powerful.
You can, ALL OPTIONALLY: resize by % or longest side in pixels or ...
, choose jpeg compression levels, alter parameters such as sharpness
gamma, brightness ... as you convert, add text overlays, colour
balance, rotation and quite a lot more. You can choose a new output
directory or (DANGER) overwrite originals or delete after conversion.

Not utterly fast but fast enough. If you have the time it will happily
convert thousands at a sitting.

How much compression you get depends on your needs and on the original
file.

My 3000 x 2000 6MP images are in the 2MB-6MB range depending on camera
settings.
Without resizing I can get useful compression by altering the JPG
compression settings.
Below are some compression results from my tests.

JPG 85 setting achieved a file 25% of the size of the original (75%
savings)
This setting produces essentially no degradation in quality for all
but the very very very most discerning uses.
I feel that eg wedding photos compressed at this level would be
essentially as good as originals and produce eg A4/8"x10" prints
entirely acceptably.

JPG70 produced a 17% file size (83% savings) and the image would pass
as perfect for the vast majority of viewers. Compression effects are
clearly visible on close examination but most people would not notice.

Reducing the actual resolution should produce gains approximately
proportional to the size reduction. For very small files sizes the
overhead of EXIF and other information will break the linear
relationship. Also JPG coding overheads don't help.

I would never downsize a photo that I considered to be other than a
throwaway copy. I would compress to JPG85 for archiving if storage
size was the overwhelmingly important factor. Even though one largely
can't see it, it would still be hard to do.

If storing online copies of offline masters then 640 x 480 at about
100 kB average do OK as index copies. This would give about a 40:1
reduction over my "extra fine" masters and half that for "fine".

_______________

A comment on megapixels. MP is not anywhere nearly as significant as
most camera sellers would have the public believe. All things being
equal, and they often aren't, and assuming a perfect lens (more on
that soon), the overwhelmingly major arbiter of digital camera photo
quality is the sensor size and/or the sensor size per pixel.
Manufacturers are adding more and more pixels by dividing stupidly
small sensors into tinier and tinier pieces. Optical quality suffers
accordingly with nasty increases in noise. 5 MP is more than enough
with current consumer level cameras and 6MP, 7 MP, 8MP ... madness
produces worse results.

An entry level DSLR has a sensor area about 1/2 that of a full frame
SLR. This is about 4 to 10 times larger than a consumer camera (or
more) and results will be substantially better. Top DSLRs have full
frame 35mm size sensors. As they also typically have 2 x the MP of an
entry level DSLR the noise performance of an entry level DSLR *CAN*
*but may well not be) as good as a top DSLR. My Minolta 7D has the
same sensor size as the Sony Alpha 100 but, as the Sony is 10 MP and
the 7D is 6 MP the "lower spec" 7D is significantly superior in low
light performance.

My Minolta 7D and 5D cameras have an APSC sensor with about 1/2 the
area of a full 35mm sensor. These are "only" 6 MP cameras. I have an
8MP Minolta A2 prosumer camera - a superb tool/toy but the SLR is 9
times less noisy optically by test. This is in almost direct
proportion to the sensor area per pixel. The A2 is very good, and far
far better than many alternatives, but the large sensor SLR is
incomparably better in low light or at high ISO ("film speed")
settings. .

As for lenses. My 'best' lens would cost about $US500 new. Maybe $600
now Sony sells them. A 'professional' lens starts in around $2000 and
you can pay many many times that. My $500 lens (which is a rather
specialist 17mm - 35mm range zoom)(superb portrait lens when
effectively a 25 - 52mm lens on my 7D) is as close to utter
perfection as I could hope for, so presumably the $2000 lenses are 4
times better :-). Looking at the price of cameras, it's clear that you
aren't going to get lenses like that until you get an SLR. SLR's have
large sensors as of right. If you want SLR type results without an SLR
you want as big a sensor as possible and as *few* MP as possible. The
only time when the more MP starts to win is in really bright light
where the signal to noise ratio becomes good enough to overcome the
small sensor's limitations. If you are doing mainly well lit or studio
lighting shots then a high MP camera may make some sense.

As an example of the resolution of a 6 MP DSLR here is the same
photo - once at low compression and once at jpg70 compression. It's a
photo of half of a friend's face - not the most usual photo but I
rather like it, and to my surprise she does too. It's only worth
viewing at full resolution or it's just another (slightly unusual)
photo. To see full size version (shift)click on "Get Original Uploaded
Photo" link below the photo. It's 1.7 MB for the full version so only
people interested in resolution and compression issues are liable to
find it worth looking at. To see the JPG70 version click on the next
button or the original photo and then download the original. Also a
small size wider view.

http://public.fotki.com/RussellMc/miscellaneous/resdemo/0107dresolutiondemo-1.html

The attached eye40.jpg is a cutout of 1.5% of the original. This is
highly compressed (jpg40) but not scaled down in size - ie on the full
size picture of about half a face this is how the eye will appear (but
at far lower compression).

.




Russell


JPG COMPRESSION RESULTS

Bother - table gets badly scrambled on sending - so Excel version
here.
It shows compression achieved on 80 photos taken at "Extra Fine"
setting and then compressed at various JPG compression settings.
17 kB

http://others.servebeer.com/misc/jpgcompression.xls





PHOTO

1.5% of an APSC sensor 3000 x 2000 image compressed with JPG40 (super
high)(very low quality) compression.
Original location as per text.



part 2 8643 bytes content-type:image/jpeg; (decode)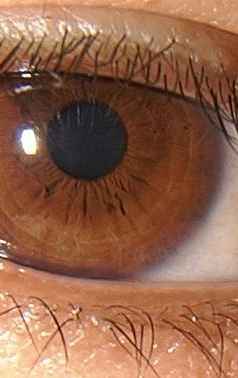 ---

part 3 35 bytes content-type:text/plain; charset="us-ascii"
(decoded 7bit)


2007\06\25@103246 by Joshua Shriver
I just backup all of my photos to DVD, and once a year I dig up all of
my DVD's and reburn them on whatever is the newest media. This year I
consolidated a lot of older CD's onto 1 DVD. Then just store them in
a folder vertically and keep out of the sunlight or heat.

As for resizing I just use mogrify.

-Josh

On 6/25/07, Josh Koffman <spam_OUTjoshybearTakeThisOuT

gmail.com> wrote:
{Quote hidden}

> -
2007\06\25@105614 by Russell McMahon


> I bought a Road-Stor unit. I transfer ALL my digital photos to CD.
> I can then downsize to my hearts content and transfer the ones I
> want
> to my laptop if I desire.

> The Road-Stor unit costs about $350.00 or so when I bought mine.
> I'm sure
> they probably cost less than that now.


Be aware that CDs will not last forever.
Much FUD around on this but they will have lives from months to 100
years.
The trick is to get all your valued data on ones which last at the top
end of this range. I have definitely seen a few that are at the
bottom end. Latest developments purport to be producing VERY long
lifetime products. I have some CDs here written about 13 years ago
which still work well. And others that don't work at all.

Serious backup requires multiple copies, ideally on different media
types and physically separated, plus means of verifying the backups
rigorously, both initially and on an ongoing basis.

For many purposes I find that a hard drive on each of 2 networked
computers with MANUAL implementation of backup is a good solution for
photo backup. Having a brain in the loop can reduce certain data loss
risks as long as the brain is used.




Russell



2007\06\25@113937 by Herbert Graf
On Mon, 2007-06-25 at 03:20 -0400, Josh Koffman wrote:
> Any thoughts? I already use Picasa and I know I could use it to scale
> my images...Is it reasonable to get it to do that for a few thousand
> pictures at once though?

I have a script that creates webpages for my images.

Part of that process is to create "sized" and "thumbnail" versions of my
photos. For that I use a linux utility called "convert". It's extremely
easy to use, even does rotations if you need it.

I'm not sure if it was included with my distro or not, you can download
it (and many other useful utils) here:
http://www.imagemagick.org/script/index.php

TTYL


2007\06\25@114847 by Joshua Shriver
Convert is really nice, it's kind of the brother to mogrify. Believe
both are from the imagemagick suite :)

-Josh

On 6/25/07, Herbert Graf <.....mailinglist3KILLspam

@spam@farcite.net> wrote:
{Quote hidden}

> -
2007\06\25@125527 by Joshua Shriver
I agree, burned media does have a short lifetime. That's why I reburn
or put on new tech every year. (CD -> DVD -> external HD)

I also have CD-R's (Imation) from 1995 that are still readable. While
some discs only last a couple months. Never buy el-cheapo brands. I
made this mistake and bought a 50 Cd spool for $10 last year, forget
the brand but didnt even have it on the disc. They lasted about 6
months. Luckly they were just backups and I still had the originals.

Now adays I stick with Imation and Memorex DVD+R. Though with the
price of HD's dropping I'm just going to start storing on those. You
can get a 500gig external seagate USB2.0/FW drive for $129-$150US.
That's CHEAP. Imagine what they'll be around Christmas. I'm hoping to
get 2 of them next month, 1 for storage, 1 for redundancy. 1TB for
less than $300 is pretty sweet :)

-Josh

On 6/25/07, Russell McMahon <apptech

KILLspamparadise.net.nz> wrote:
{Quote hidden}

> -
2007\06\25@143542 by William Chops Westfield

On Jun 25, 2007, at 7:17 AM, Russell McMahon wrote:

> JPG 85 setting achieved a file 25% of the size of the original

Do you find that 3rd party SW will create smaller JPGs even at
"full" resolution? I've seen some hints that this might be the
case, but haven't tracked it down and don't know if JPG is one of
those protocols where you can get higher compression at the same
"loss" level by throwing more CPU cycles at it...

BillW


2007\06\25@190900 by Jake Anderson

>
> JPG 85 setting achieved a file 25% of the size of the original (75%
> savings)
> This setting produces essentially no degradation in quality for all
> but the very very very most discerning uses.
> I feel that eg wedding photos compressed at this level would be
> essentially as good as originals and produce eg A4/8"x10" prints
> entirely acceptably.

Have you looked at jpeg2000 or similar for compression? I don't know how
well it will go re-compressing already compressed images but its hype
seems to indicate its the "next big thing" and the sample pictures
floating about aren't too bad.

2007\06\26@054910 by Alan B. Pearce
>Have you looked at jpeg2000 or similar for compression?

JPG2000 is reputed to be lossless compression. One of the guys here is
looking to do our own IP for an FPGA to do flight data compression for
camera images from space. He is looking at compressing the equivalent of a
CD worth of data every second before transmission from a satellite.


2007\06\26@081331 by Russell McMahon


> >Have you looked at jpeg2000 or similar for compression?

> JPG2000 is reputed to be lossless compression.


It's not lossless in all cases, but it does have a wavelet based
lossless mode.

The Pierian Spring says:

http://en.wikipedia.org/wiki/JPEG_2000

There are several claimed advantages of JPEG2000 over the ordinary
JPEG standard:

Superior compression performance: At high bit rates, where artifacts
become nearly imperceptible, JPEG 2000 has a compression advantage
over JPEG by roughly 20% on average. At lower bit rates (e.g. less
than 0.25 bits/pixel for gray-scale images), JPEG 2000 has a much more
significant advantage over certain modes of JPEG: artifacts are less
visible and there is almost no blocking. The compression gains over
JPEG are attributed to the use of DWT and a more sophisticated entropy
encoding scheme.

Multiple resolution representation: JPEG2000 provides seamless
compression of multiple image components, with each component carrying
from 1 to 16 bits per component sample. With tiling, it handles images
of arbitrary large size in a single codestream.

Progressive transmission by pixel and resolution accuracy, commonly
referred to as progressive decoding and signal-to-noise ratio (SNR)
scalability: JPEG2000 provides efficient codestream organizations
which are progressive by pixel accuracy, by quality (SNR), by
resolution or by size. This way, after a smaller part of the whole
file has been received, it is possible to see a lower quality of the
final picture, the quality can be improved monotonically getting more
data from the source.

Lossless and lossy compression: JPEG2000 provides both lossless and
lossy compression in a single compression architecture. Lossless
compression is provided by the use of a reversible (integer) wavelet
transform.

Random codestream access and processing, also referred as Region Of
Interest (ROI): JPEG2000 codestreams offer several mechanisms to
support spatial random access or region of interest access at varying
degrees of granularity. This way it is possible to store different
part of the same picture using different quality.

Error resilience: JPEG2000 is robust to bit errors introduced by noisy
communication channels. This is accomplished by the inclusion of
resynchronization markers, the coding of data in relatively small
independent blocks, and the provision of mechanisms to detect and
conceal errors within each block.

Sequential buildup capability: JPEG2000 allows for encoding of an
image from top to bottom in a sequential fashion without the need to
buffer an entire image.

Flexible file format: The JP2 and JPX file formats allow for handling
of color-space information, metadata, and for interactivity in
networked applications as developed in the JPEG Part 9 JPIP protocol.

Side channel spatial information: it fully supports transparency and
alpha planes.

More advantages associated with JPEG 2000 can be referred to from the
Official JPEG 2000 page.



More... (looser matching)
- Last day of these posts
- In 2007 , 2008 only
- Today
- New search...