Exact match. Not showing close matches.
PICList Thread
'[EE]:what is this component?'
2005\07\06@225545 by ipal11 singnet
part 0 44 bytes
his is a multi-part message in MIME format.
part 1 191 bytes content-type:text/plain; charset=ISO-8859-1; format=flowed (decoded 7bit)

Have checked through the Farnel catalogue, but still no clue of what
this device (black,blue with yellow body) in the picture is?

Clue?

Thanks, Ling SM


part 2 41328 bytes content-type:image/jpeg; (decode)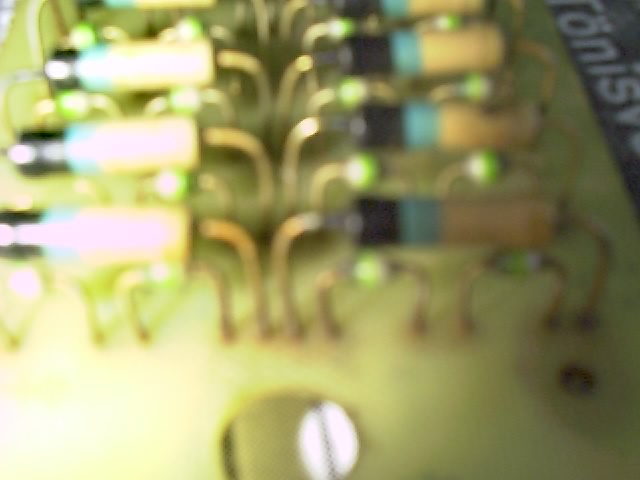 ---

part 3 35 bytes content-type:text/plain; charset="us-ascii"
(decoded 7bit)


An inductor?

ipal11 singnet wrote:
> Have checked through the Farnel catalogue, but still no clue of what
> this device (black,blue with yellow body) in the picture is?

--
Martin K
http://wwia.org/

2005\07\07@080915 by Peter Onion
On Thu, 2005-07-07 at 10:59 +0800, ipal11 singnet wrote:
> Have checked through the Farnel catalogue, but still no clue of what
> this device (black,blue with yellow body) in the picture is?
>
> Clue?

Yes please... Like what does the circuit that they are in do ?


Peter


My initial guess too, but can't find something similar and did not have
a chance to do measurement at camera time.

More information, the card is used in power transformer, and is
submerged in some kind of coolants. Quite an old installation, >35 years.

Ling SM

Martin K wrote:
> An inductor?
>
> ipal11 singnet wrote:
>
>> Have checked through the Farnel catalogue, but still no clue of what
>> this device (black,blue with yellow body) in the picture is?
>
>


2005\07\07@090019 by olin piclist
ipal11 singnet wrote:
>> Have checked through the Farnel catalogue, but still no clue of what
>> this device (black,blue with yellow body) in the picture is?
>>
>> Clue?

It would be a lot easier to tell if you actually bothered to *focus* the
camera.


*****************************************************************
Embed Inc, embedded system specialists in Littleton Massachusetts
(978) 742-9014, http://www.embedinc.com

2005\07\07@092617 by Peter Onion
On Thu, 2005-07-07 at 20:47 +0800, Ling SM wrote:
> My initial guess too, but can't find something similar and did not have
> a chance to do measurement at camera time.
>
> More information, the card is used in power transformer, and is
> submerged in some kind of coolants. Quite an old installation, >35 years.

If the components below the ones in question are diodes, then it could
be a voltage multiplier stack, in which case they would be voltage
equalising resistors. Probably high resistance values and designed for
high voltage use.

Just my 2ps worth.

Peter




2005\07\07@093542 by Peter van Hoof
looks to me like this is a high voltage rectifier ( I assume the green and white
drop shaped components are most likely diodes ) and the component in question is
parallel in with two of the diodes it's purpose likely to be to distribute the
voltage evenly over the diodes. this would make it a high ohm resistor. a coil
over two diodes does not seem logical to me.

Be carefull with the coolant, likely PCB's

Peter van Hoof

{Original Message removed}


>>> Have checked through the Farnel catalogue, but still no clue of what
>>> this device (black,blue with yellow body) in the picture is?
>>>
>>> Clue?


Olin:

> It would be a lot easier to tell if you actually bothered to *focus* the
> camera.


Sorry for the quality, this is the best I got from *him*. :-)

Peter:
>Yes please... Like what does the circuit that they are in do ?

Not sure. May have to pay a personal visit if this component is not
easily identified as I thought.

Ling SM

(Sorry for the initial dual identities. I have just switched over from
OutlookExpress to portable thunderbird,
<http://portablethunderbird.mozdev.org/>, so it is not totally
configured. Those who want to do email on a flash-key should consider
trying it. Big productivity gain for me, both on the spam filtering and
its mobility)


2005\07\07@102459 by Russell McMahon


> Be carefull with the coolant, likely PCB's

To make that clearer.

************ WARNING ****************
************ WARNING ****************
************ WARNING ****************
************ WARNING ****************

The "oil" in old power transformers and other oil filled componnets
was often poly chlorinated biphenyl based (PCBs) which are classed as
category 2 carcinogens. Believed by many to be highly cancer causing.
Not quite what it says below - YMMV :-(.



http://www.nohsc.gov.au/OHSInformation/Databases/ExposureStandards/az/PCB_.htm


Carcinogen category notice: Category 2. Probable human carcinogen for
which there is sufficient evidence to provide a strong presumption
that human exposure might result in the development of cancer. This
evidence is generally based on appropriate long term animal studies,
limited epidemiological evidence or other relevant information. See
Chapter 13: Guidance Note on the Interpretation of Exposure Standards
for Atmospheric Contaminants in the Occupational Environment,
published by Worksafe Australia.




Peter van Hoof wrote:
> looks to me like this is a high voltage rectifier ( I assume the green
> and white drop shaped components are most likely diodes ) and the
> component in question is parallel in with two of the diodes it's purpose
> likely to be to distribute the voltage evenly over the diodes. this
> would make it a high ohm resistor. a coil over two diodes does not seem
> logical to me.
>
> Be carefull with the coolant, likely PCB's
>

Peter Onion:
>If the components below the ones in question are diodes, then it could
>be a voltage multiplier stack, in which case they would be voltage
>equalising resistors. Probably high resistance values and designed for
>high voltage use.

I was told they were diodes. I tried attaching 2 jpeg pictures but were
rejected by the server, though they were more focus but were further
away. Since they are not more details I shall abide by the bandwidth
conservation call.

What's PCB's ? Will be tough to know the voltage rating of the
"resistor".

Thanks.

Ling SM


More... (looser matching)
- Last day of these posts
- In 2005 , 2006 only
- Today
- New search...