[Menu]>[Electronic circuit beans collection]>[+30V Power]

Parts explanation for +30V power supply



Inverter ( 74HC14 )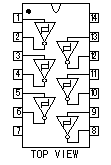 This is the inverter circuit which has the hysteresis characteristic.



---


Microinductor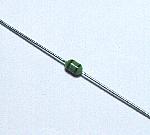 This is the micro coil and the inductance is 18 ÁH. The permissible current of this coil is obscure. I think that it does from several mA to tens of mA. The size is as the 1/8-W resistor.



---


Shottky barrier diode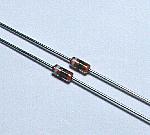 This is the shottky barrier diode for the small electric power. Because the reverse recovery time is short, the shottky barrier diode can do the high-speed switching operation.
The diode which was used this time is 1SS108. The reverse direction maximum voltage of this diode is 30 V and the forward direction maximum electric current is 15 mA.



---


Resistor for the oscillation frequency adjustment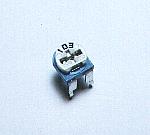 This is a small variable resistor to adjust the frequency of the oscillator.



---


Ceramic capacitor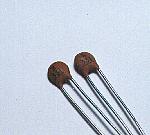 The ceramic capacitor with the small disk type is used.



---


Multilayer ceramic capacitor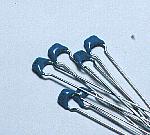 The multilayer ceramic capacitor with the small and comparatively big capacity is used for the capacitor to use with the filter circuit.



---


Resistor for the ripple filter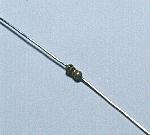 The small resistor of 1/8 W is used. The output current of the power supply this time is about 3 mA even if maximum. So, it is OK with the resistor with the permission electric power of 1/8 W.
I2 x R = (0.003)2A x 1000 ohm = 9 mW



---


Wiring terminal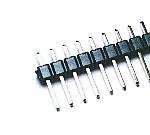 This is the terminal to wire with the circuit outside. It uses according to the necessity.



---


Printed board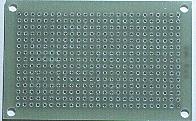 I used the universal printed board.
It cuts in the necessary size and it uses.



---


Metallic stud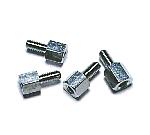 I used the metallic stud to install the printed board in the case.